3 Reasons Why Stoneware is the Best Gift
Since it's right in our name, Sunset Hill Stoneware already knows that stoneware makes the best gift. Why though? Aside from the handcrafted quality that comes with an American-made product, there are a few different reasons. Here are our top three reasons why stoneware is the best gift.
1. Stoneware Shows You Care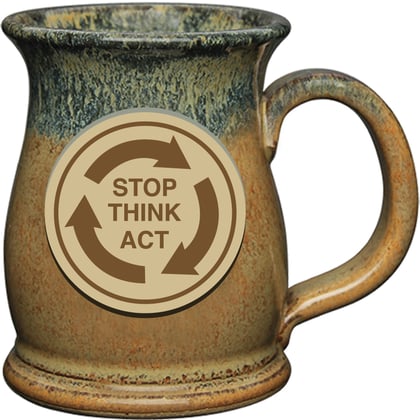 Whether it's a gift for a client or for employees during your business's 25th anniversary, stoneware shows you care about quality. Unlike printed pens with your company's name or a printed mug that will fade with time, stoneware has quality you can feel. Giving such a high-quality gift shows your employee that you put thought into what they received this year. It also shows you notice what they do for your business from day to day. In short, it could improve retention with your employees or clients because it's more thoughtful than a printed mug that you can find anywhere.
We've even seen customers use stoneware mugs as a reward for employees before. At large companies like Essity, which has a paper processing plant in our hometown of Neenah, one department even used their mugs as a reward for safety. Once Essity employees got their mugs, they became a hot commodity. Most used their mugs every morning with their first cup of coffee at work.
Stoneware is an incredible tool for making someone feel wanted. All it takes is giving one mug, and you might have a loyal client or employee for years to come.
2. Stoneware is Customizable
Whether it has your brand or a work of art your company created, you can put almost anything onto a clay medallion for your stoneware. Thanks to a combination of art and technology, we can preserve even the tiniest details or the boldest lines on our medallions.
On top of that, our mad scientists are always experimenting with new options for glazes and styles. To date, we have more than 70 different color options. Whichever color you choose, these naturally sourced glazes will help your logo make a statement to anyone who receives it. We even have tricolor options, which are perfect for everything from a patriotic twist to a gift you're giving for St. Patrick's Day, Christmas and beyond.
Some companies even use Sunset Hill Stoneware to debut new designs. Any time companies hand out annual gifts for their employees, or a veteran-owned coffee company come up with new designs for its loyalest customers, we're happy to experiment and make these special presents a reality.
3. Stoneware Makes a Lasting Impression
We aren't exaggerating when we say your artwork or logo is set in stone. Once your stoneware beer stein or coffee mug goes through the final firing cycle, it won't fade or wear off. It can last a lifetime. It's also pretty indestructible, standing up to the test in the dishwasher, microwave and even in the oven.
Sunset Hill Stoneware has even received messages from people who dropped their mugs on their slate floor before. In that particular case, the floor had some damage, but the mug was unscathed. While we don't recommend anyone recreate this at home, it serves as a testament to just how durable and long-lasting stoneware can be.
When you give stoneware to a client or employee, you're giving them a reminder of your brand that lasts for decades. They'll see it every time they drink their first cup of coffee, or enjoy a craft beer of their choice. Even after you finish your branding campaign, the stoneware will be out there, making people aware of your company. Don't believe us? Just ask anyone who has been to Yellowstone National Park within the last 15 years and brought a mug home with them.
No matter who is receiving it, whether it's an employee with a custom mug or a friend getting one of our Online Store exclusives, stoneware is the best gift you can give. Its quality, uniqueness and durability makes it a gift that lasts a lifetime, with benefits for your brand that last just as long.