Using Custom Mugs as Corporate Gifts
Sunset Hill Stoneware creates handcrafted mugs for companies large and small. A lot of these businesses use their mugs as merchandise for their customers, but there are also those who use our mugs to show appreciation for their employees' hard work.
Enter Essity. Previously SCA Tissue North America, this multi-billion dollar company has thousands of employees in Neenah and Menasha, Wis. Both of these plants are less than a mile away from Sunset Hill Stoneware's production facility in Neenah, where they make toilet paper, diapers and paper towels.
Custom mugs as employee gifts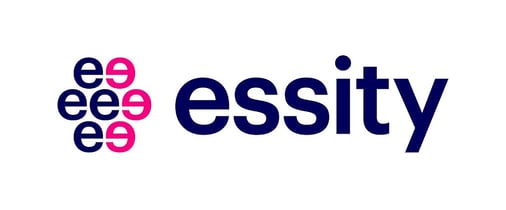 At larger manufacturing businesses like Essity, it's common for management or members of the C-suite to give employee gifts when they meet certain productivity goals or meet quotas for work safety. Most of these tend to fall into the category of promotional products, including jackets, pullovers and duffle bags emblazoned with the company's logo.
"To me, that stuff is just all really boring," said Dean Cheslock, a leader in the company's printed products division, said about traditional corporate gifts in a phone interview. "If you look in any catalogs, it all looks the same and it all looks cheap."
Dean wanted to take things a step further when the company's Stop Think Act campaign began a few years ago. He fielded suggestions from his employees. They stated that they were tired of the same old printed gifts they never used.
"Because everything was always the same and didn't appear to be of the highest quality, that was challenging," Dean said. "They would sometimes say, 'I've got enough jackets, I've got enough fleece towels.'"
Dean concluded that it was time to find something better.
Positive customer service experiences
Dean's decision to choose Sunset Hill Stoneware for employee gifts came from the quality of the corporate logo mugs, and the proximity. Sunset Hill Stoneware's pottery facility is located less than a mile down the road from Essity's manufacturing plant in Neenah.
Right away, he said he had no trouble with the ordering process, including seeing how the design he chose would look on his mugs.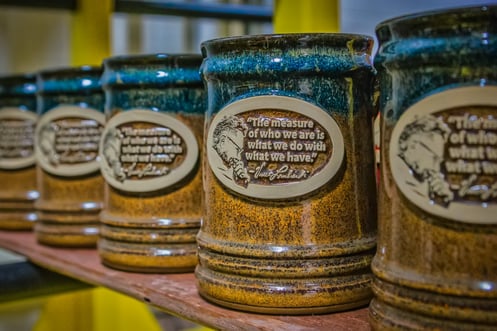 "It was probably one of the easiest things I ever did," Dean said. "I sent them some artwork I patched together, and they sent me back something that was way better. The mugs turned out exactly like they told me they would."
Ultimately, the team would receive Wide Mouth mugs in Copperhead Run. A rustic color of sandstone with a blue-green top, Dean said Copperhead Run suited his down-to-earth team.
"I don't think my team goes for all that flashy stuff," he said.
Conveniently, since Essity and Sunset Hill Stoneware's production facilities are just a few doors down from each other, Dean was able to pick up the mugs himself and deliver them to his team members when the time was right.
While the mugs had a higher price point than  traditional apparel or flashlights, Dean believes that the value of the mugs was fair.
"The price is a value for the quality of the product you get," Dean said. "I expected to pay more."
How the Corporate Logo Mugs were Received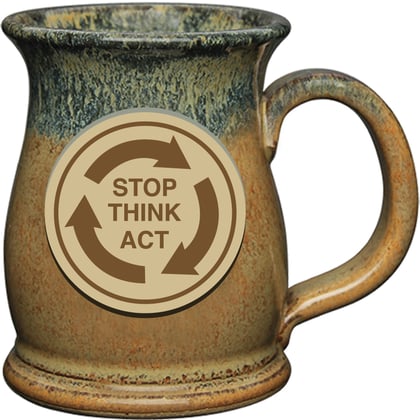 Both Dean and the employees receiving the mugs admired their quality. The mugs were unlike any other gift and kept their morning coffee hot longer than almost any mug. Even today, Dean said that he sees anyone who has an office in the building using them daily.
He added that his employees hadn't seen anything like the Sunset Hill Stoneware mugs before as a company incentive. Their excitement over receiving the custom stoneware mugs was sincere. Dean said that he hadn't seen that enthusiasm when his employees used to thank him for other types of gifts they'd received in the past.
"I think they were very popular to the point where people didn't want to lose them," he said.
Dean's team members weren't the only ones who were happy about the mugs' origins though. Because the mugs are from the United States, union members also appreciated Dean's choice of a gift.
Now that Dean has moved to manage a new department with new employees, he said that he plans to utilize the same plans for giving some high-quality, handmade gifts to his new team members. Just like the first round of mugs he gave to his team, these mugs will likely have Dean's team talking for months or years to come.