Sunset Hill Stoneware Names New Company President
Sunset Hill Stoneware has named Chris Rand as its new President effective immediately. His assumption of the new role comes as CEO Duane Dunsirn transitions out of his position as company president to enjoy his retirement.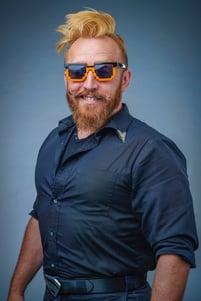 Company founder and COO Tom Dunsirn will become CEO after Mr. Rand's transition to his new position. Mr. Rand will also continue acting in his role as Director of Marketing & Communications.
Mr. Rand is a Marine Corps veteran with over 10 years of business management experience, having owned his own business. He is a Wisconsin native and a graduate of the University of Wisconsin-Green Bay with a degree in art. Mr. Rand came to Sunset Hill Stoneware after working in marketing for Virginia's state science museum.
"It is an honor to accept the position as Sunset Hill Stoneware's President," Mr. Rand said. "I hope to continue carrying the reputation of high-quality products and innovation that this family business has provided to the world."
For over 20 years, Sunset Hill Stoneware prides itself on its handcrafted ceramic and stoneware products, including mugs, steins, kitchenware and more. Proudly calling itself America's Cleanest Greenest Pottery, artisan potters handmake all of its products in its production facility in Neenah, Wis. and provide them to breweries, coffee shops, nonprofit organizations, national parks and more.
For more information about this announcement, please contact us at info@shstoneware.com.