Memorial Day: Salute to Veteran-Owned Businesses
Memorial Day is on May 27 in 2019. As the team at Sunset Hill Stoneware unofficially kicks off summer and get together for backyard cookouts with our friends and family,  we also like to take a moment to remember why we have this holiday in the first place.  Thousands of people have died while serving in the U.S. armed forces, many in war and combat. There are also tens of millions of veterans in every corner of our country. To honor these veterans, and those who never made it home, Sunset Hill Stoneware recognizes the veteran-owned businesses we work with today.
Battalions, Squadrons and More
Across all branches of the U.S. military, we have provided mugs for countless units both large and small. Oftentimes, these mugs are used as commemorative gifts or for fundraisers to support getting these troops and veterans what they need, or to help organizations or individuals they support. We even make mugs for veterans reunions or anniversaries, such as 50th homecoming anniversaries.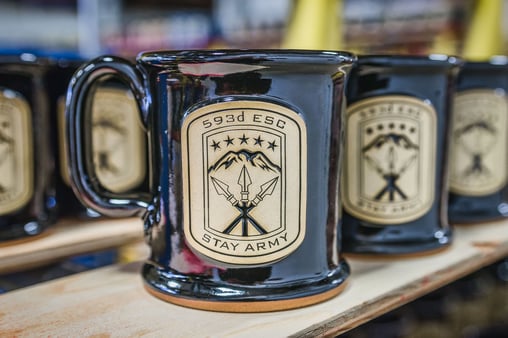 The designs you'll find on these mugs can vary. Some, in the case of several U.S. Air Force squadrons with whom we proudly work, feature fighter jets or other military planes. Others feature recognizable insignia, such as anchors for the U.S. Marine Corps and Navy and rifles used by various regiments in all military branches.
The styles and colors these groups order depends on a lot of factors. But, they tend to order darker glaze colors for their mugs, like Navy Blue, Royal Green and Midnight Black. We've also noticed that they tend to order our more understated styles like the Happy Soul and the Executive Slim.
No matter how each unit decides to use its mugs, we're proud to support all of these organizations. We will gladly work with each of them to make a stoneware coffee mug they won't soon forget.
Zero Foxtrot
Owned and operated by a Marine Corps veteran, Zero Foxtrot is a brand dedicated to the old-school military lifestyle. This online retailer caters to the hardcore with apparel, home decor and even its own blends of coffee.
Zero Foxtrot has a diverse array of clothes at the intersection of vintage and hardcore, many of which feature skulls, snakes and older versions of the American Flag. However, our completely and utterly unbiased favorite is their collection of unique mugs and steins.
Dozens of stoneware mugs and steins are available from Zero Foxtrot's webstore in almost any color you could want. They also feature some of the classic designs you'll find on the company's shirts, hoodies and tanks, along with a few others that are perfect for some Irish-themed debauchery all year long.
Operation Combat Bikesaver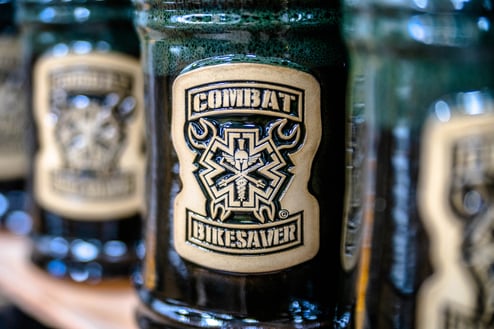 We've talked about Operation Combat Bikesaver before. The brainchild of United States Army Engineer veteran Jason Zaideman, Operation Combat Bikesaver is a non-profit organization that helps combat veterans find relief from service-related mental illnesses such as post-traumatic stress disorder (PTSD), traumatic brain injuries (TBI) and depression.
Now with multiple locations in Alabama, Indiana and a forthcoming location in California, Operation Combat Bikesaver allows veterans to rebuild and repair old motorcycles into unique works of art. This lets these veterans focus on turning something damaged and broken into something new in a family-style group setting, all while providing relief from their combat-related mental illness.
In doing so, the organization hopes to lower suicide rates among combat veterans suffering from PTSD and TBI.
When you visit Operation Combat Bikesaver's locations across the U.S., you might find their logo on some custom beer mugs and coffee mugs, including an Oktoberstein in Royal Green or an Executive Slim in Hunter Green. Both of these styles feature the organization's unique logo. They support its bottom line, helping more combat veterans get the support they desperately need.
Ranger Up
It says it right on the bottom of their website: "The guys that own this company either were or are still in the military." Ranger Up is a lifestyle brand created by self-described sarcastic workaholic veterans, who like to have their homages to the U.S Army lifestyle paired with a sense of humor.
Along with plenty of clothes with vintage bomber artwork and classic designs seen on military planes, Ranger Up has plenty of collections that range from edgy to unusual. We've adapted many of the company's designs onto their mugs since we began working together in 2017.
Some, like the Caffeind mug, sell out rapidly; so it pays to get notifications from the company when you're looking for the best design for you.
However, one of the most popular designs in the Sunset Hill Stoneware offices is the I Will Cut You mug in Razzmatazz. This design features an innocent-looking bunny paired with a not-so-innocent threat of physical violence. Time and again, it's a great way to let everyone know how you're feeling on a Monday morning.
Iron Bean Coffee Company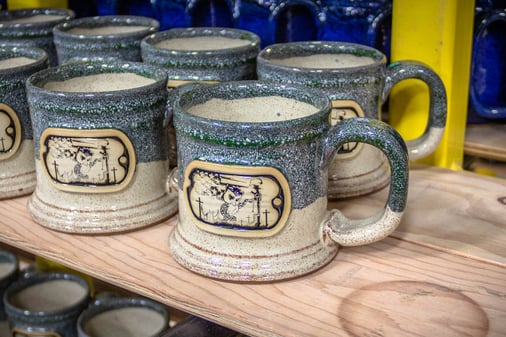 Since its beginnings in early 2018, Iron Bean Coffee Company has gained a loyal following with thousands of followers from all over the country. Originally, when owner and Marine Corps veteran Fred Dedrick and his wife Chanell wanted to get into the coffee business, they dreamed for a more interactive, human experience. Nowadays, their craft-roasted coffee brings people together far and wide.
The secret is in the mugs they use. On top of being the best delivery vehicle their heavy-duty coffee could have, each Iron Bean mug tells a story. A recurring theme among these mugs is the story of the company's mascots, lovebirds Nori and Dylan. Some include the two owls going on their first date, trick-or-treating and having fun together, along with edgier and more poignant designs based on different holidays.
The latest Iron Bean coffee mug to be released is the Some Gave All… mug. It's a design that honors servicemen and women who died protecting the values enshrined in the United States Constitution. Debuted in our new Desert Cactus and Old Glory glazes on the Tom's Mug, it features intricate symbolism and details that won't be found anywhere else.
According to Iron Bean Coffee Company's blog, a portion of every sale on these mugs will go to the Semper Fi Fund, an organization that supports veterans' health and wellness, as well as helping them integrate back into civilian life after their service is over.
Sunset Hill Stoneware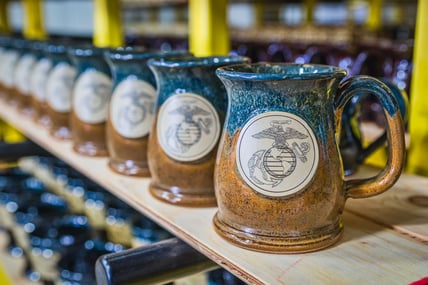 Yes, we're a veteran-run business too. Sunset Hill Stoneware's company president and COO, Chris Rand, is a U.S. Marine Corps veteran.
Chris's service gives him a unique perspective on our business and helps us connect with other veteran-run businesses. He has also pushed us toward new creative endeavors, which is why you've seen so many new glaze colors added to our Glaze Gallery, with even more still to come.
We've been able to flex our creative muscles in other ways, too. On top of the classic styles we've debuted in our Online Store, be on the lookout for some new styles we have on the horizon that are even more patriotic, all of which include shipping in the continental U.S.—so you won't have any hidden surprises after you check out.
Memorial Day is set aside to honor the fallen who protected the United States Constitution throughout our history. That's why we're proud to work with these businesses run by people who served our country and join them in remembering those who made the ultimate sacrifice, on Memorial Day and every day.