The entrepreneurial story behind Sunset Hill Stoneware: Duane Dunsirn
Duane Dunsirn, co-owner of Sunset Hill Stoneware, has had his hands in countless business endeavors over the course of his career. He has invented products that changed the nature of several different industries, and ones in households and businesses across America today.
He recounted his history as an entrepreneur and how it shapes the way we make our famous stoneware today.

DUANE DUNSIRN'S HUMBLE BEGINNINGS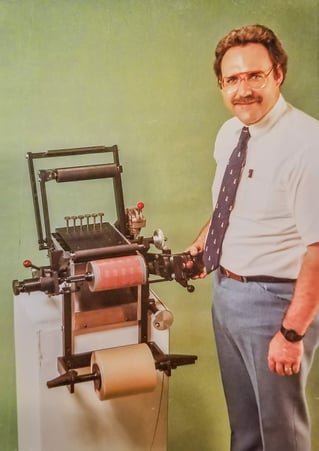 Duane never attended college. After he graduated high school, he had two jobs: He worked at paper giant Kimberly Clark, and also took inventory and did maintenance work at his father's new business. The business opened in 1966 and had two printing presses from 1932. According to Duane, they were in poor condition due to their age and natural wear and tear.
"The maintenance man quit after six months, so I asked, 'Why don't you let me take that on?'" he recalled. "I ended up designing all of our machinery and built 14-color inline presses."
Since he was developing some of these cutting-edge systems in the 70s and 80s, when cell phones were still the size of someone's head and the internet was still new, technology was not on Duane's side.
Even without today's technology, Duane found ways to learn how to fix and develop new machinery and products. He had to do his own research to propel his invention.
"I can't imagine what I would've done if I'd had all this other technology," Duane said.
CUSTOM TECHNOLOGY AT SUNSET HILL STONEWARE
Duane worked with a number of other businesses and products before coming to Sunset Hill Stoneware. Some of these ventures include a paper business, the 14-color inline press, machines to print stickers and a series of coupons that would later be used for the McDonald's Monopoly game pieces.
Beyond paper, Duane's knack for invention sparked machines that helps us today. His systems allow us to have a fast turnaround while protecting our stoneware from the elements all year.
"I just look at things a totally different way," Duane said. "That's what's always set us apart in any business I've been with, including this one."
TOOLS AND QUALITY
Today, Duane also works at HawkPoint Technologies, which supplies the MRP system that allows our company to reduce our paper usage by hundreds of pounds every year. He's always looking for ways to improve the systems Sunset Hill Stoneware uses to assure quality and safety.
In turn, the respect Duane shows toward our employees is reflected in how clean our shop is. Every day each station looks as spotless as it did when production started that morning. Our craftsmen creating the mugs are happy and treat the building with care in part because of this respect.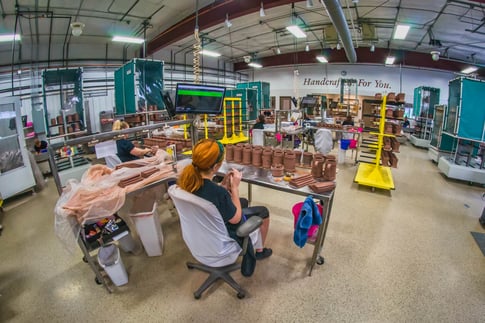 "Everybody respects everything we've done, probably because of how much Tom and I respect them and how we respect this business," Duane said.
There's a reason we don't mind showing our shop where some of our competitors won't. Duane's systems make it so nobody in our shop has to wear a mask, including the potters. This puts us light years ahead of other potteries for efficiency, safety and eco-friendliness. It also reflects in the product we give our customers, a major point of pride for Duane.
"I know if I can do the right thing, if I can provide everybody with the right tools to do the job and we can do a quality job, the rest all comes together," Duane said. "The customers love it, the customers will buy your product. Sales should not be an issue, people are not going to get hurt so there's no issues with safety and people really appreciate it."
Duane's lifelong experiences as an inventor and entrepreneur reflect in every part of our production facility and business. From our digital order-tracking capabilities to the climate controls and even the shelving where we dry our mugs, our team uses his inventive mind to make every piece of stoneware we produce and bring to you.
"Even on the weekend, I'll come in there early in the morning and just walk through the plant," Duane said. "And I'm just in awe. They're in here, they use it every day and it really works well for them and for us."