New Glazes for Your Stoneware
We've talked about how our stoneware comes in more than 60 different colors in nearly every shade. In recent months though, we've added four more glazes for your custom stoneware mugs or steins.
The scientists at Sunset Hill Stoneware's laboratory had to toil hard to get this new white glaze looking right. Now we've finally got it available for the whole world to try!
Frosty Flake was born out of a freak blizzard that occurred on April 15, 2018 and shut down the city of Neenah for one snowy Sunday. As the town dug itself out from whiteout conditions, we asked the followers of our Sunset Hill Stoneware Mug and Stein Collectors group on Facebook for help commemorating the event with this snowy white glaze.
Frosty Flake is not only a stand-out glaze with its icy white exterior—it's also a great base for some of our premium glazes, such as a red, white and blue stein that we did for the Screaming Eagle and other patriotically colored orders. It's perfect for hot cocoa on a cold winter day.
We took naming suggestions from the public on Facebook for this red and green glaze. There were hundreds of fantastic submissions on our social media pages.
However, we did not accept any suggestions that referenced the glaze looking like a ketchup-topped meatloaf. We also ruled out "Paradise by the Dashboard Light" or "I'd Do Anything for Love (But I Won't Do That)", but not before a few laughs. Instead, we went with an option that refers back to our Badger State roots—Wisconsin is consistently one of the top cranberry producers in the country, and the bogs pepper the landscape in the central and northern regions of the state.
Based in lush green and topped with a tart finish, Cranberry Bog is perfect for anyone looking for a something earthy and classy. It has a distinct, bright hue in the center of reversed medallions, adding an extra pop to your artwork!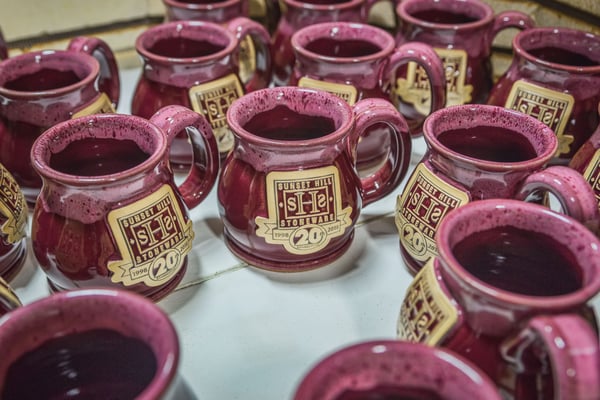 This fruity two-tone is based in our classic Mulberry Blush glaze and topped with a shock of pink.
The naming contest for this pink and red beauty garnered a lot of dessert-themed suggestions. Variations involving "whip" and "sorbet" were pretty popular. However, since we just named Cranberry Bog a few days earlier, we were looking for something different. When someone suggested Razzmatazz, we decided that it added enough pizzazz to make the new glaze stand out.
You might think we have a limited customer base for this one, but that couldn't be further from the truth. Since its big debut, Razzmatazz has worked for everything from renaissance fairs to city police departments. It adds a bright splash to just about any event and is a perfect way to jazz up your coffee.

Irish Stout was selected from suggestions in our Facebook group, though there were some debates over what color the mug actually was for a while. The glaze is Mountain Brown topped with a golden-brown draught reminiscent of a stout you'd find at a pub on a rainy day in Dublin.
The name suggestions for this glaze were all across the board. Some referenced chocolate or desserts, while others were similar to different types of coffee. Some people thought the mug was green and began suggesting names related to everything from forests to the Green Bay Packers.
In the end, the Sunset Hill Stoneware office team voted from a shortlist, and Irish Stout was the clear winner.
With its caramel-colored top, Irish Stout has been a hit with coffee shops looking for a warm tone to match the drinks that they serve. Irish Stout joins our ranks of more than 65 glaze colors across all shades of the spectrum, so you'll be able to find a color that suits you and your business's needs.
All of these new glaze colors are also featured on special 20th Anniversary mugs that can only be found in our online store. Get yours today!