What's in a Ceramic Glaze? How Some Mugs Turn Out Differently
It's common knowledge that no two Sunset Hill Stoneware coffee mugs or beer mugs are exactly alike. Practically every step of the process is done by hand, including applying the ceramic glaze, so that's a natural result.
Another result that some might not know about is how some of our glazes might turn out slightly differently on different mugs. Because every mineral in our glazes is naturally sourced, they might turn out differently depending on where the minerals were mined. It's a wonder of science that causes our glazes to look different.
Here are just a few of the glazes that have undergone some amazing transformations over time.
Copperhead Run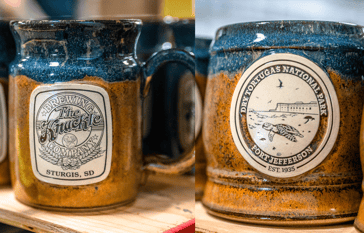 One of our most popular glazes, Copperhead Run can have a lot of minor variations. Any of them could occur based on where the minerals in our natural glazes come from, how long the glaze dried before going into the kiln and other factors.
Some mugs in Copperhead Run—or its sister glaze, Sandstone—might have a more solid pattern from one mug or stein to the next. Others might have a flecked pattern on them and a top that is more blue than green.
No matter what the case may be, it shows just how unique each of our mugs can turn out. Even in the same glaze color, no two might look exactly alike, depending on the other minerals that are present inside the glaze.
Pistachio and Mustachio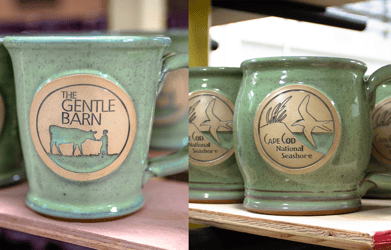 Based in light green and covered in dark flecks, Pistachio and Mustachio are unique glazes that stand out in a sea of other shades of green with youthful freshness and a slight vintage vibe.
Each mug in these colors may have more or fewer brownish spots, depending on how the glaze behaves in the kiln. Either way, you'll find these spots peppered all over the surface and inside every unique coffee mug.
Other times, the spots on Pistachio and Mustachio may be darker or lighter. Much like fingerprints, no two batches of these mugs will look completely alike. These two glazes are a true testament to each Sunset Hill Stoneware mug's uniqueness from the moment it comes out of the kiln.
Deep River Haze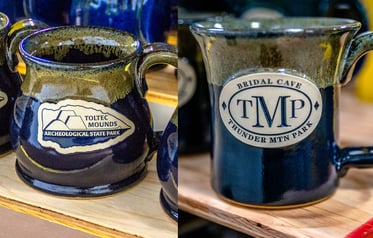 One of our older glazes, Deep River Haze is subject to different variations. Based in our tried-and-true Navy Blue, the top of this two-tone glaze can vary from almost golden yellow to a darker shade of spring green. The solidness of the glaze can also vary from batch to batch.
A few main factors determine the final results for Deep River Haze. Slight variations in the mineral content can change the shade on top of the glaze—which is to be expected. Since none of our glazes are made synthetically, we cannot guarantee the same outcome will occur every single time.
Red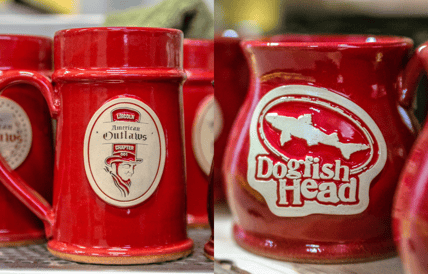 Since we introduced it, our Red glaze has been a dramatic shade used for everything from coffee companies to national historical parks. Even though it's a solid shade and doesn't come with any accent colors or extra patters, that just makes our Red the ultimate statement color.
Thanks to some varying factors, our Red can sometimes look lighter or darker in person than it does in photos on our blog, or even next to other red mugs.  However, this is the sign of a quality mug. If it came out as the exact same shade every time, that wouldn't be as natural as something that was sourced from the earth.
Electric Blue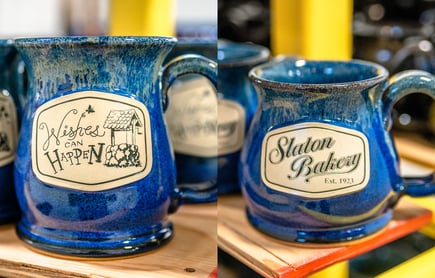 A deep shade of blue that radiates beauty, Electric Blue and its derivatives, Blue Moon and Northern Lights, are popular for everything from breweries to military organizations. Since these glaze combinations are more sensitive to changes in mineral content, Blue Moon and Northern Lights in particular might look a little different each time.
The dark top on Blue Moon can vary depending on as little as placement in the kiln. This can cause the top to have brighter spots, or to be a much darker shade that pairs well with almost any artwork imaginable.
Meanwhile, Northern Lights can have a top that looks light blue, greenish or even yellow depending on conditions. These variations make each mug visibly different from the last. They're also the reason why Northern Lights is among our most popular glazes, and a purchasable option for 12 Packs in the Sunset Hill Stoneware Online Store.
Stormy Blue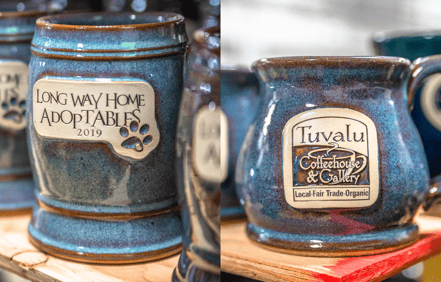 Shade variances sometimes happen in Stormy Blue and its sister ceramic glaze, Night Sky. In some cases, the base color in both of these glazes may have a purple tint or skew more toward bright blue. When paired with a darker blue in Night Sky, it can appear even brighter by contrast.
Then there's the inside of the medallions in Stormy Blue and Night Sky. Because of the glaze's consistency, it can appear almost orange inside reversed medallions. But, that's exactly what makes Stormy Blue and Night Sky such crowd-pleasing glazes. They're the perfect addition to any mug collection, and a dream for anyone looking to add some artistic flair to their logo.
While some value uniformity, Sunset Hill Stoneware embraces variation. Of course, we still value quality control, but we also welcome and celebrate the small differences in each color we offer.