SwirlWare: Unique Mugs that are Works of Art
No other potteries in our industry make anything like SwirlWare. With the method we use for making these unique coffee mugs, stoneware crocks and desk organizers, no two of your pieces will look exactly alike. It's truly a unique art form that mug collectors and coffee lovers alike will want to collect for themselves.
Many of our customers know just how striking these swirled mugs can look, especially paired with even the most detailed logos. Let's take a closer peek at these mugs, the process behind making them and some of the highlights from businesses and organizations that use these unique mugs.
How SwirlWare mugs are made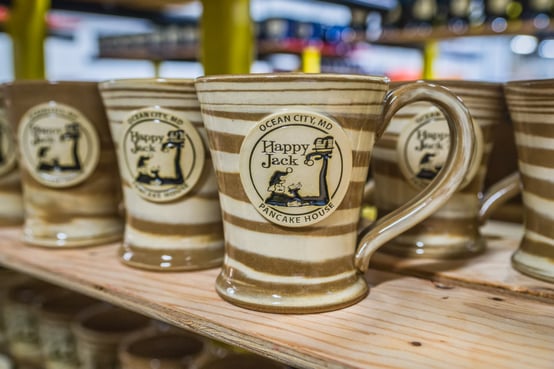 The process of making your SwirlWare mugs is a bit different from the steps we normally take when making your custom beer mugs and coffee cups. Taking a disk of our usual natural brown clay, our potters pair it with a lump of white clay. Carefully working their magic, they then fuse the two clay colors into a mug, bowl or desk organizer with a unique swirling effect. The handles of the mugs frequently display the same swirling pattern as well.
The medallion on each swirl patterned mug can come in extremely fine details, if you so choose. All the medallions are filled with our black glaze before being applied to your SwirlWare, so your artwork or logo will stand out in a crowd of lesser-quality mugs.
While no two pieces of stoneware are exactly alike due to the handmade nature of our process, it's even more visible on our SwirlWare products. Whether the mugs end up being predominately brown, white or an even mix of the two depends entirely on what happens on the potter's wheel.
No matter what, each mug will have a slightly different result for a piece that is a functional work of art. In a world filled with cheap, imported coffee mugs, keeping SwirlWare in stock can make the difference between saying your company cares about quality and actually showing it through the products you offer.
New mug colors
In the second half of 2018, we quietly introduced new color options for your SwirlWare. The latest batch of options includes blue, black and yellow paired with white on three different styles. These pieces came after weeks of experimentation to find the right blend of colors that wouldn't look too muddy or diluted after finishing the firing process.
A few customers have used these unique mug styles to show off their creative chops. One of the most striking examples came during Independence Day in 2018, when Iron Bean Coffee Company let us experiment with our Blue Morning Rambler SwirlWare to tell the continuing love story of their company mascots, Nori and Dylan. The medallion features the couple watching the fireworks together on a 4th of July date in classic red, white and blue.
There are plenty of opportunities for creative branding with our other two new SwirlWare colors as well. All three of our Black SwirlWare styles impart an air of mystery and class up just about any brand. For anyone looking for a fun backdrop for their logo, these styles also work well for a zany, zebra stripe vibe. It truly is as versatile as you make it.
Our yellow SwirlWare is more subtle than some of its darker counterparts, but it still imparts a bright and sunny appearance. The bright stripes circling each mug are reminiscent of warm desert sands and sunshine. Although the yellow style might not be as flashy as its blue and black cousins, it's still an ideal choice for anyone looking to sell a subtle piece of art that shows new details every time it's used.
Customers with SwirlWare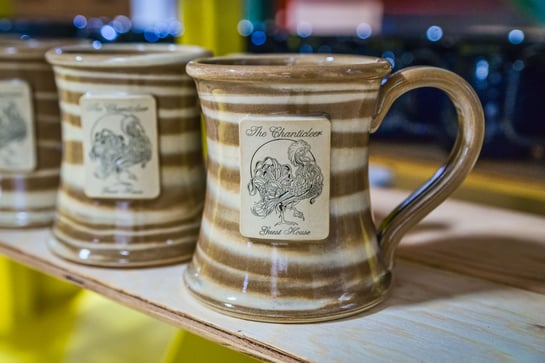 Since we introduced our SwirlWare line years ago, countless businesses, organizations and groups have experienced the unique quality of these swirled coffee mugs for themselves. From bakeries and restaurants to hotels and national parks, there are few limits to the industries that have tried and loved SwirlWare for themselves.
Among one of our most notable customers who has tried SwirlWare is Chanticleer Guest House, a stately bed & breakfast outside the town of Sturgeon Bay in Door County, Wis. The inn consists of a large farmhouse and barn surrounded by fields of grazing sheep and lush greenery. Appropriately for the setting, the inn's logo features a rooster greeting the rising sun. It shows all of the bird's feathers in intricate detail on the medallion to match the class that guests will find in every inch of the inn.
SwirlWare mugs have also been a hit at restaurants. Happy Jack Pancake House in Ocean City, Md. is a seaside breakfast mainstay that has been family-owned for more than 56 years. Along with their gargantuan flapjacks covered in syrup and butter, the pancake house has offered SwirlWare and other stoneware coffee mugs with their loveable cartoon logo as souvenirs for guests for years.
From national battlefields from the Civil War to state parks and radio shows, there are dozens of organizations that have delighted their guests and employees with SwirlWare across the years. In their original colors or in black, blue or yellow, these mugs are true works of art that pair well with any business.