Sunset Hill Stoneware's Master Potter, Jason Sonsthagen
The potters at Sunset Hill Stoneware turn and burn hundreds of unique coffee mugs each day. With military precision, our team is able to keep our whole operation running so you have the highest-quality unique mugs available. Meet the man behind the whole operation at our pottery facility, Jason Sonsthagen.
The production manager at Sunset Hill Stonware, Jason has worked here for nearly 20 years, since he was barely out of high school. His expertise extends far beyond making unique mugs, and he uses it when he makes our products from a humble lump of clay.
Potters of Sunset Hill Stoneware
As our production manager, Jason oversees all of the stoneware mugs, beer steins and other stoneware products we make. He also trains our potters and handle and medallion assemblers on how to do their jobs, and experiments in glaze chemistry to make our newest glaze colors possible. Far more than a jack of all trades, Jason is a master of his craft.
Jason has been throwing pottery since he was at Appleton East High School, located in the nearby town of Appleton. He discovered wheel-thrown pottery thanks to his teacher, who instilled a passion for ceramics in his high school years.
All in all, Jason does not consider how he got to Sunset Hill Stoneware to be typical for most potters. It's more common for potters to discover their passion for throwing in college, or even later in some cases. However, seeing how interested Jason was in learning the craft, his high school teacher took him under his wing.
"I was really fortunate to learn the basics and fundamentals of throwing from my high school teacher," Jason explained. "Typically, most people don't get that."
At his teacher's recommendation, Jason Sonsthagen applied to work at Sunset Hill Stoneware right out of high school. Aside from a brief sabbatical away from the company early in his career, he has been working in our pottery facility throughout his adult life and has trained several other artisan potters in turn. Before becoming a professional though, he learned from other Sunset Hill potters and used his experiences there wherever he went.
"I really enjoyed it, and I really liked making the mugs that the guys made," Jason said. "I kind of always used that as a comparison. Wherever I was, I didn't enjoy it as much as I did at Sunset Hill. I didn't have as much fun doing what I was doing."
America's Cleanest, Greenest Pottery
Famously, health issues that often go hand-in-hand with the job are one of the biggest drawbacks involved in pottery. Most potters have to wear dust masks, and the facilities they work in are damp, dusty or sometimes both. Whether or not they actually wear their masks on the job, however, remains to be seen.
"There's not many potteries out there that I would want to work at," Jason admitted, laughing.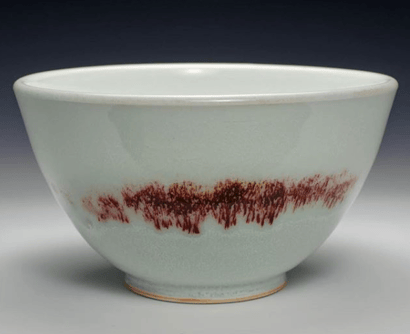 Sunset Hill Stoneware doesn't call itself America's Cleanest Greenest Pottery for nothing. Jason feels well enough to run after work—he has, after all, completed the Ironman Triathlon. Potters at other companies aren't often able to run after they come home for the day.
"Here, it's nice. I come in every day knowing I can do what I love and I'm healthy and safe," Jason said. "At other places, unfortunately, people are not as lucky to have what we have and you have to wear a respirator, or you should."
Jason makes far more than just mugs for us. Some of his most recent examples of his diverse body of work include vases, customized ceramic trophies, mugs that are two feet tall and more for some of our clients and closest friends. While it's second nature for our team to "turn and burn," these works of art provide additional challenges.
In his spare time, Jason Sonsthagen takes his passion for pottery further by teaching budding young potters. He has his own studio, wherein he creates unusual pieces like porcelain bowls, ornamental lights and more. His work through High Cliff Studio can be seen on his Instagram page.
Customized Mugs from Jason Sonsthagen
Jason is a self-described geek for functionality. While he still enjoys creating vases, sculptures and other works of art whose purposes are purely aesthetic, he loves seeing people using the mugs he makes and creating pieces with functionality in mind.

Aside from creating the mug shapes from Sunset Hill Stoneware that everyone knows and loves, Jason made an even more unique coffee mug as an act of kindness for a member of our community.
Jenny Schmoock, who manages one of our area gas stations, was born with a genetic condition called ectrodactyly. A rare birth defect, ectrodactyly causes the hands or feet to develop improperly in the womb, often resulting in fused or missing fingers at birth. Due to her unique condition, Jenny had spent much of her life unable to hold cups, mugs and other small objects with one hand—an ability most people don't even have to think about when they drink their coffee or tea. Previously, the only way she could drink one-handed was using a soda can she crushed for a proper grip.
Jason, hearing Jenny's story through our tight-knit community, worked with her to bring her something she had never been able to use before. Basing the shape off a soda can she'd crushed for him, Jason made Jenny customized mugs that she could use with one hand. While it was tricky to position the handle so she could grip the mug comfortably, Jason created customized stoneware mugs just for her.
Jenny's daughter Grace, who is in elementary school, also got stoneware of her very own. Being different as a kid is hard enough without having a very visible condition like ectrodactyly, so Jason took to the wheel once again to create a customized stoneware cup for Grace so she could drink from her own Pink Passion big-girl cup using only one hand if she wanted to. The design is custom-made to fit to her hand—Jenny can't hold it the same way she can.
Jason's designs for Jenny and Grace have been life-changing for both of them. Not only can they have coffee, milk and more without spilling, but they can enjoy something that wasn't accessible before.
Jason made more pieces for the Schmoocks, plus outfitting some of Jenny's mugs with special silicone lids for travel mugs. He plans to help Jenny in the future, particularly as her daughter continues to grow up and get bigger.
While he isn't our only potter, Jason Sonsthagen is a master artisan whose knowledge has been a game-changer. We look forward to seeing what he'll do next and how we can bring it to you in the future.