Stoneware Color and Glaze Guide
Color speaks volumes about your personality and brand. Whether you're a large law firm trying to show a token of appreciation to your employees or a microbrewery with a sense of humor, the stoneware glaze you choose can help tell your customers, clients and employees exactly what kind of business you're trying to be.
Sunset Hill Stoneware offers a selection of more than 70 different glaze colors, including single and two-tone shades. Virtually all of these colors and glazes can be paired with any of our products, so the real challenge is selecting the glaze that's right for you.
SINGLE-COLOR AND TWO-TONE GLAZES
Solid colors are sleek and beautiful while remaining relatively simple. They are an appealing partner for more complex or reversed medallion artwork, since they allow the tiny details of the image to stand out without causing sensory overload.
However, that doesn't mean the color you choose has to be plain or boring, either. Sunset Hill Stoneware has bright, solid glazes for nearly everyone's tastes, from Midnight Black to Pistachio and even Imperial Purple.
Two-tone glazes are a stunning choice for a variety of industries and make your mugs or steins into memorable gifts and souvenirs. Darker two-tone glazes like our Tigers Eye, Galaxy Night and Silvery Night are particularly popular choices for breweries, which tend to select darker steins for aesthetic reasons but also use these glazes to give the steins a more colorful flair. They look especially dynamic with simpler, streamlined logos.
It is important to remember when selecting glazes that no two pieces with two-tone glaze will look identical. Although the stoneware will have a uniform shape and overall color scheme, there will be slight differences in the mark of the glaze on the sides, interior and handle for a unique, handmade appearance.
TIPS FOR SELECTING COLORS AND GLAZES
There are a lot of factors to consider when picking out the best glazes and colors for your mugs. One of the biggest is branding. However, finding the glazes that suit your brand can be difficult. Some questions you should consider include:
WHAT KIND OF BUSINESS ARE YOU?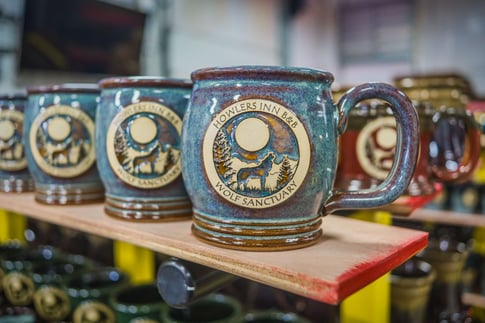 The colors you choose for your stoneware may depend on the kind of business you are trying to be.
In general, coffee and tea companies are more likely to use brighter colors for their mugs than breweries are for their steins, and they are more likely to use warm colors on top of that. There are variations though. If your coffee company is aiming for an edgier tone in its branding, you may aim for mugs with darker shades.
Color has the ability to evoke certain moods and feelings in people. Colors like red and yellow indicate danger or caution, but have also been used to make us feel hungry. Green is often associated with peace and nature, and thus is an easy choice for garden centers or parks. Even pink and purple can exude femininity and elegance, depending on their use.
If you're aiming to give a subtle hint toward your company's mission or steer your customers to take a certain action, selecting certain shades is the right way to go.
WHERE IS YOUR BUSINESS LOCATED?
One of the top factors when picking out the colors that best suit your mug and brand could involve some geography.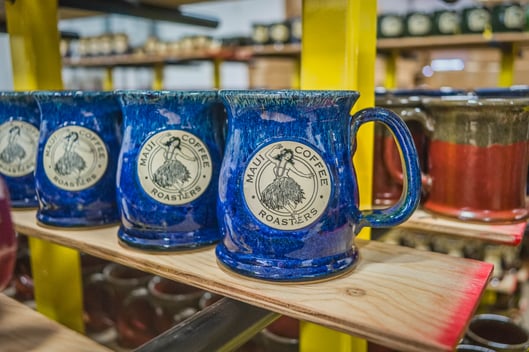 More than a few of our customers have businesses on the coast, by the Great Lakes or near other large bodies of water. Oftentimes, these companies will choose at least one shade of blue, if not a two-tone glaze involving blue. On the other hand, lodges and general stores located in the mountains, deserts or further inland tend to opt for warmer earthtone colors like sandstone, red or brown.
You shouldn't limit the colors of the mugs you choose to the landscape outside your doors though. A business located downtown in a family-friendly tourist town may opt for brighter colors like Pistachio to appeal to families with young children, but a spa retreat in a town surrounded by hot springs might go for something darker and more sophisticated.
WHO WILL BE USING THE STONEWARE IN THE END?
Stoneware makes for a memorable gift for employees and corporate clients too, but selecting the right color for your company's brand and your clients can be a challenge on its own. Firms and companies that are trying to show their clients that they have a bit of a funky flair could opt for some of our two-tone or brighter single glaze options.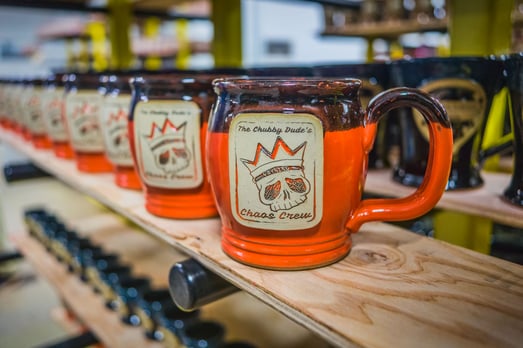 Gift shops and other businesses who plan on reselling mugs to customers have even more options at their disposal. You may choose to order a wider assortment of colors to appeal to your customers' tastes. Sometimes, the colors a business selects can arrange from an assortment of two to an assortment of two dozen.
It may also help to know who your end users are. How old are they? What are some of their interests? These could affect the colors of the mugs they like to buy. Blue is a safe bet for just about anyone, since men and women like it across all age groups, but a more unique shade like Stormy Blue could make your stoneware irresistible.
Check out our glaze suggestion guide, or our full gallery of colors through the link below.