New unique mugs and glazes for the new year
The year 2018 was a big one for Sunset Hill Stoneware. Between celebrating our 20th anniversary as a company with different events throughout the year and debuting new glaze colors, new styles for your unique mugs and the grand reopening of our online store, we went all out.
We don't plan on backing down from innovating after our anniversary year draws to a close though. With just a few days left in 2018, we're giving you a sneak preview of what we have in store for 2019.
New Glazes for Your Mugs
Our crack team of mad glaze scientists never stops concocting new options and experiments for our colorful mugs. The future is still hazy on all of the possible glazes we could offer in 2019, but we're already kicking off the year on the right foot with a few vibrant options.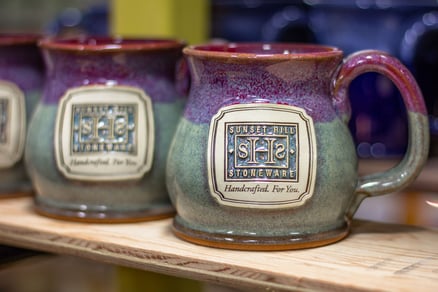 The first new glaze for this year may look familiar to fans of Cranberry Bog. Jokingly nicknamed "Bog," this glaze features the earthy, greenish-gray tone that makes up the base of our popular red and green glaze. After putting several naming options to a vote for our fans on our Twitter account though, we named it Spanish Moss.
The Sunset Hill Stoneware team and our fans agree that the greenish-gray shade is reminiscent of plants found in the Deep South. Being a single-tone glaze, Spanish Moss is a perfect choice for anything from corporate gift packages to national parks in the southernmost regions of the United States.
Our second new glaze of the year has surprising origins, given its pastel appearance. Although it has a light blue base with green undertones and a magenta-violet top, Amethyst Horizon has the same material as our Red glaze.
We fielded some springlike suggestions for this glaze from our fans on Twitter. However, it was a name reminiscent of jewel tones that won. Amethyst Horizon had the right ring to it, with the sunrise-like aesthetics of the mug. It's the perfect color to bring a more springlike vibe to your stoneware, or even just for something you won't find anywhere else.
Both Spanish Moss and Amethyst Horizon can be found on mugs with our logo in the Sunset Hill Stoneware online store. They're also now available as glaze options on all of our mugs and steins with orders of 24 or more.
New Products and Styles
Hawk-eyed shoppers in our online store may notice a few new products in the store before the year ends, including some new interpretations on a few classic, unique coffee mug styles.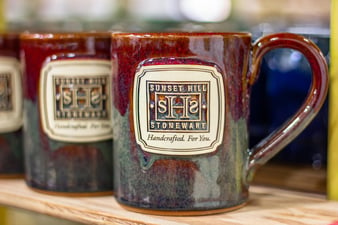 In addition to two Potbelly styles in Amethyst Horizon and Spanish Moss, we've also debuted some logo mugs of our own design in a straight-lined style unlike anything currently available in the Sunset Hill Stoneware online store. Although it's unlike any of our more curvaceous styles currently on tap, our SHS Logo Mugs still have the same handcrafted quality as all of our products.
You can find SHS logo mugs in our crowd-favorite Cranberry Bog glaze and its close relative, Spanish Moss. Because of how the glaze drips and pools on the mug, no two of these mugs will look exactly alike.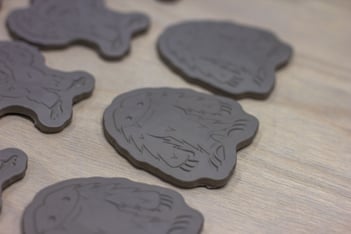 We've also got a few other rare mugs on the way for our online store, including two styles featuring the world's most adorable yetis. Made of white clay and our Frosty Flake glaze, these handmade mugs will be available in the online store soon. They're the perfect way to have a cup of hot cocoa on a cold winter night, or even a frosty-cold beer on a hot summer day.
While we've got even more new products debuting soon, we don't want to give away all of our secrets too early. For now though, we're more than willing to drop a few hints about some of our upcoming tributes to our home state, plus a few other options for anyone who has the luck of the Irish on their side. Keep an eye out for mugs featuring our home state of Wisconsin, plus a few specials coming for St. Patrick's Day and much, much more.
And More!
The new year is only just beginning. As is custom for us, we'll debut new products, glazes and styles all throughout 2019 and beyond. To be among the first to know about our newest products, subscribe for our email update on our blog. Or, follow us on social media to see the latest from the Sunset Hill Stoneware team.