How We Make Stoneware Mugs
Every piece of Sunset Hill Stoneware is handcrafted one at a time on pottery wheels by skilled potters. No slip casts. No mug molds. No automation. This is how we create the finest-quality stoneware mugs in America's cleanest, greenest pottery facility.
Here's a look at all of the work that goes into making your handcrafted custom stoneware mugs, steins and kitchenware.
Custom Artwork
Tips for having the best logo and artwork on your Sunset Hill Stoneware products
Sunset Hill Stoneware mugs and steins prominently feature your custom artwork on a 3-D medallion. Your brand or event will literally stand out.
With your final approval, your artwork becomes crisply detailed clay medallions that will serve as the centerpiece for your mugs.
In order to get the best possible outcome for your artwork, send us your logo as a vector file. Vector files are images that can be easily resized to fit on any size of mug or stein you may want. Types of vector files include .ai, .eps and .pdf files.
If you don't have any of these files available, another option is to send a high-resolution image of your artwork so our dedicated graphic designers can redraw it for your stoneware.
Skilled Potters
What makes Sunset Hill Stoneware special?
While uniform in shape, our potters handcraft every piece of your pottery on wheels the way it's been done for thousands of years.
Our natural clay is carefully sourced before our skilled, professional potters form it into mugs, steins, bowls and more. You will be able to see and feel the subtle grooves inside each piece where the potter shaped the stoneware with his or her fingertips.
The biggest difference is that you'll feel the quality from the moment you hold your custom stoneware stein or mug in your hands. That same quality allows our mugs to last through years, decades and potentially even longer with regular use.
Handles & Medallions
Size matters: The stoneware you choose changes the size of the medallion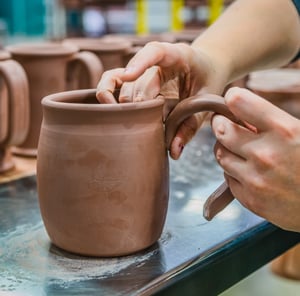 After your potter finishes forming your stoneware mugs and steins from a lump of clay on a pottery wheel, it's time for them to travel to the handle and medallion stations. Here, we apply each piece by hand.
At the bases of the handle, you will be able to see and feel the thumbprints of the people who applied and shaped them for an even more unique touch of quality.
The size and shape of the stoneware style you choose will determine the size of your custom medallions. Larger mugs and steins can feature a larger medallion than what would fit on a smaller coffee mug or shot glass. However, no matter what size your medallion is, we can include hairline-level details in your logo or artwork.
Air Drying
Why Sunset Hill Stoneware can go in the microwave and dishwasher
After your stoneware has its handle and medallion with your custom artwork, your stoneware air dries. Air-drying allows the water in the clay to evaporate evenly.
It doesn't take us as long to complete the air-drying process as it does for other potters. Why? We use unique smart technology to monitor the temperature and humidity levels both inside and outside our facility, resulting in a daily year-round room temperature that allows the clay to dry.
No matter if it's -20°F or 100°F outside with 70 percent humidity, our facility is always at 75°F and 36 percent relative humidity. It's only slightly warmer and dryer in the kiln room. The clay can dry at the same rate every time, all while keeping our employees comfortable.
Bisque Fire
Why does Sunset Hill Stoneware both air dry and bisque fire their mugs?
To complete the drying state and remove any leftover water in the clay, your mugs make their first visit to the kilns.
While air-drying on its own is a huge step in helping your mugs become more durable and microwave and dishwasher safe, bisque firing helps guarantee they won't explode or disintegrate at higher temperatures.
During their first round in the kilns, the clay in your mugs dries enough to mature and fuse, making it harder and more durable than it was before. This also ensures that the handle and medallion with your custom artwork will stay in place.
As the water evaporates from your mug, the clay naturally shrinks closer to its end size.
Bottom Stamp
Standard or Custom? What to know about Sunset Hill Stoneware bottom stamps
Stamping on stoneware is a centuries-old process whereby information–such as the name of the potter–is printed on the base of the mug or stein with a wax seal. When the piece is fired for the last time, the message is permanently sealed to the bottom.
We offer a standard bottom stamp with the Sunset Hill Stoneware logo on your products. However, you also have the opportunity to further promote your brand or provide educational messages by creating your own custom bottom stamps.
Glaze
Our team hand-dips your mugs in a glaze color of your choice. With more than 60 dynamic glazes and counting, you'll easily find one you'll want on your mugs or steins. Both single and two-tone colors are available.
Glazes add color, strength and beauty to your stoneware. All of our glazes are lead-free and nontoxic, making your mugs safe for your daily cup of coffee or a bowl of oatmeal.
In their raw state, the glazes on your mugs look different from what they look like in the end. Some glazes that are brown before firing turn out deep blue afterward; others go from pink to dark green. This happens when the natural minerals in our glazes reach an extremely high melting point, causing them to change color and form a glassy protective layer on the outside of your stoneware.
Kiln Fire

The stoneware comes back to the kiln for its final firing at 2,200°F. This high firing temperature forges its strength and helps develop the color and durability. For the sake of comparison, the temperature of lava from an active volcano can range from 1,300°F to 2,200°F.
This high firing temperature fuses the glaze to the clay, creating a permanent, durable surface in vivid color. The process is similar to forming a thin but tough layer of glass to protect your stoneware from the elements.
Unlike other forms of pottery, kiln-fired stoneware can last potentially for a lifetime under proper care. Just to be safe though, we have an extra team of quality control experts who inspects your mugs to make sure they're ready for use before packing them up in custom designed packaging that provides an extra layer of protection.