A.G. Thomson House: A Minnesota Retreat with a Cinderella Story
Tucked away in a well-manicured neighborhood of the Minnesota town of Duluth, the A.G. Thomson House stands in stately splendor just off of Lake Superior. There's a Cinderella story to be told in this elegant B&B's history, but most of all it's a destination for anyone looking for a quiet getaway from Minneapolis or St. Paul.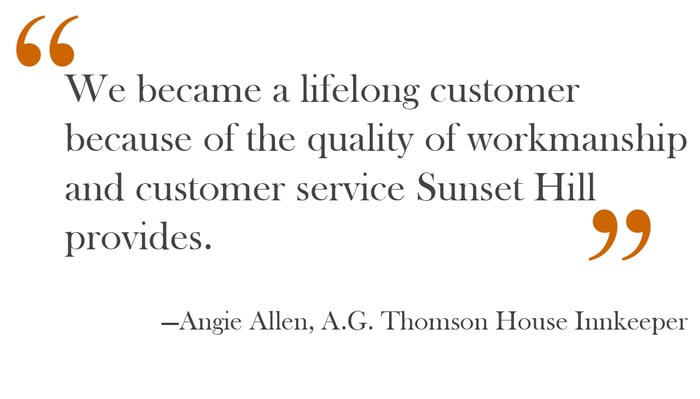 History of A.G. Thomson House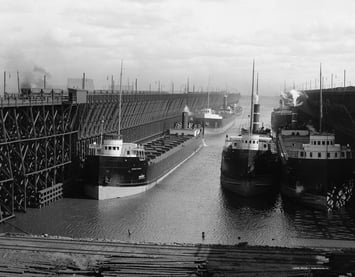 Built in 1909 by Great Northern Power Company leader William Ryerson, the A.G. Thomson house is a Dutch Colonial home located in Duluth's mansion district. At the time, Duluth was one of the busiest ports in the United States. It was also a major hub for transporting iron ore and other raw materials. In turn, the city had the most millionaires per capita in the country for a time during that period.
The house's name comes from its second owner, Adam Thomson, a major partner in the hardware wholesale company Kelley-Howe-Thomson, who added a carriage house and tool shed to the mansion's grounds. The house changed hands a few more times throughout the century, eventually converting into a B&B that gradually fell into a dismal state under previous management.
Angie Allen, innkeeper at A.G. Thomson House along with her husband Tim, said she's proud of the fact that she took over the worst-rated inn in Duluth in 2007 and turned it into one of the top bed and breakfasts in the country. The B&B was even named No. 1 in the U.S. in 2012 and 2016 and has received the TripAdvisor Certificate of Excellence for seven years in a row.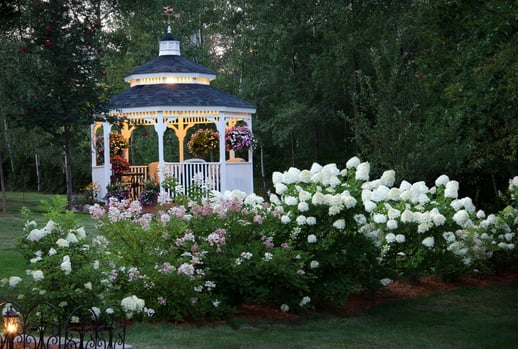 Today, A.G. Thomson House stands on a quiet, dead-end street in one of Duluth's most historic neighborhoods. It boasts 21st century amenities like free WiFi in a mansion that is more than 100 years old. It also offers seven unique, stylishly decorated rooms in both the main house and the converted carriage house. Most of these suites also have whirlpool hot tubs installed in the room.
Although Allen noted that the A.G. Thomson House is listed for sale, she wished to make it clear that she and Tim are dedicating themselves wholly toward providing excellent service at their B&B until the right person comes along to take over as owner. The B&B is still active and accepting guests for the foreseeable future.
Things to do in Duluth
Duluth is a popular spot during the warmer months of the year, but especially so during late September and early October when the city turns bright orange, red and yellow with the onset of the fall foliage.

Allen says summer and autumn are the most popular times for visitors in Duluth. But, the locals also take advantage of winter with skiing, snowshoeing and fat bike mountain biking. While the area is a wonderland for Nordic skiers with plenty of snowy cross-country trails in the winter, Spirit Mountain also allows enthusiasts to get a chance at some downhill slopes during the coldest months of the year.
"If you don't embrace winter in the upper Midwest, it's far too depressing," Allen said through an email interview. However, the lake has a warming effect, so you won't feel like your nose hairs are freezing together.
Depending on your interests, A.G. Thomson house has plenty of activities and packages for visitors to enjoy in Duluth. There are several different options for couples to have a romantic getaway, including anniversary and honeymoon packages. They also offer a walking tour of Duluth that hits the city's arts district, plus a tour of the North Shore's craft brewery scene.
Find custom bed & breakfast mugs
A.G. Thomson House offers a diverse selection of Sunset Hill Stoneware mugs for its guests. A Wisconsin native , Allen wanted to bring a piece of the Badger State across the state line.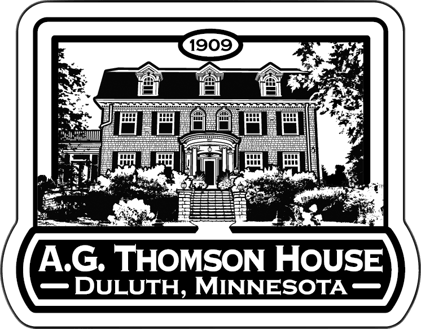 "Once we did, we became a lifelong customer because of the quality of workmanship and customer service Sunset Hill provides," Allen said. She added that she was drawn to the various options for glazes and styles Sunset Hill Stoneware provides.
Guests at A.G. Thomson House will find Sunset Hill Stoneware mugs to use at breakfast and during snacks throughout the day during their stay. Allen also loves her custom stoneware soup bowls and crocks. She uses them for making baked French toast and some of her favorite egg dishes.
She added that patrons frequently buy mugs for themselves or as gifts for anyone back home who offered to babysit or housesit for them. Allen also offers her custom stoneware mugs as part of her Coffee Lover's package, and as gifts to her repeat guests.
There's always a variety of stoneware mugs at A.G. Thomson house, with the historic building displayed in detail down to the bricks and shrubbery at the front of the mansion. The latest styles you may be able to find include a Potbelly mug in glazes like Tigers Eye and Royale Frost, the Executive Slim in Copperhead Run and the Morning Rambler in Root Beer Float.