3 Easy Steps To Catch A Leprechaun
Everyone dreams of it, but no ones achieved it, UNTIL NOW! Catch your very own leprechaun with these 3 easy steps!
Catching a leprechaun is tougher than you think! He'll turn your whole place upside down quicker than a wink! Follow the below 3 tricks to catch that little fink:
1. Build A Trap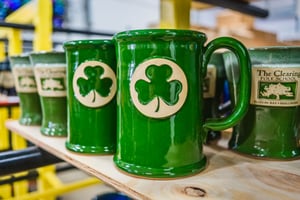 Leprechauns are widely known to be little people, so we recommend something small, yet sturdy. Our handmade custom stoneware is perfect in this regard. Find just the right sized trap from our selection of products for maximum efficiency!
Our steins make the best option for the surly fae folk.
2. Make It Shiny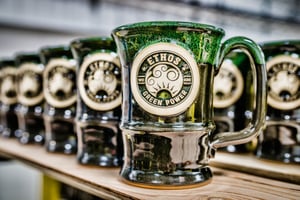 The gold lust of the common leprechaun is known by many, but few know that it's not just that it's gold, but that it is the shiny nature of the object that truly draws the attention of this common house sprite. That is why we recommend after picking out the most suitable stoneware for that the job, you choose some of our blindingly, lustrous glazes from over 60 dramatic glaze options that we offer.
3. Set The Bait
By now you have chosen a great piece of shiny stoneware, so now it's time to set the trap! Cover your stoneware mug with a small piece paper, post-its work great in this regard. Place your bait on top of the paper and when the leprechaun snatches it, he will fall right in to that beautifully handcrafted stoneware!
I've Caught A Leprechaun, Now What?!
Most novices would at this point just force the leprechaun to give up his pot of gold and then set it free. We have studied the economics of the North Pole for quite some time and have found the elves and leprechauns to be close biological cousins. The amount of labor these tiny, mythical creatures can clock in is pretty astounding, and they make great potters!