20 Years of Sunset Hill Stoneware
Sunset Hill Stoneware has been making high-quality ceramic stoneware for 20 years and counting. We started out as a tiny business run by two friends in a converted firehouse. Knowing that, it's hard to believe how much we've grown in the two decades since our owner and CEO, Tom Dunsirn, brought his pottery business idea to life.
To celebrate the final month of our anniversary year, we're taking a trip down memory lane. Hop in the time machine with us and take a look at how 20 years of Sunset Hill Stoneware has shaped our American-made products.
Vintage mug from Wally's Still
Way back in the day, when some of our current employees weren't even old enough to walk yet, Sunset Hill Stoneware started out as two guys working out of a former fire station in the tiny town of Dale, Wisconsin.
A Dale institution, Wally's Still was one of our very first customers. Tom and his crew made a set of truly unique coffee mugs for this local diner, in a now-retired glaze color nicknamed Honey Mustard. Anyone who visited the restaurant for breakfast could then have piping-hot coffee in a mug that was handmade just a few doors down.
For anyone who wants to take a tour of our history, the restaurant stands today with a new name. Still Wally's Still is located on Wisconsin Ave. in downtown Dale. And yes; we still make mugs for Still Wally's Still. Keep an eye out for them whenever you order a hot cocoa or a cup of coffee.
Having survived multiple moves, a retail location and the Great Recession, the original Wally's Still mug stands as a testament to how far Sunset Hill Stoneware has come from the days back in Dale. This mug is a treasure that Tom keeps in the office. It's also potentially one of the few originals that still exist.
Sunset Hill Stoneware's Horton Inn Vase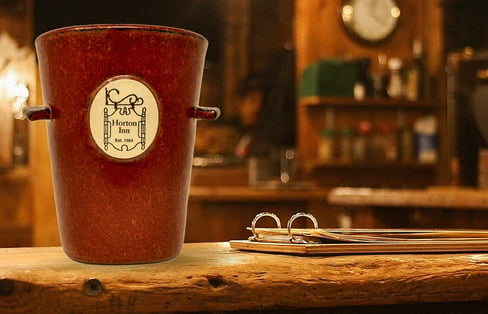 Formerly found in nearby Hortonville, the Horton Inn was a supper club located in the small town. Sunset Hill Stoneware made a unique ceramic vase with handles for the Horton Inn that showed off the supper club's wrought-iron sign logo, along with its date of establishment in 1984. We've made other pieces for the Horton Inn previously, including stoneware mugs and steins, but this piece of our history stands a cut above the rest for just how unique it is.
Although the Horton Inn has changed hands and is now known as the Loose Wheel, we're proud to have a piece of our combined history on hand. The handled vase is glazed in Sunfire Red and is a testament to timeless beauty and how some institutions will always be around in one form or another.
It's also a testament to the sheer variety of styles we tried making for the world before finding our calling with mugs, steins, kitchenware and desk products. Back in the day, we used to make vases and vessels of all sizes that could hold anything from a few individual flowers to umbrellas or even stand just as decorations. While the Horton Inn vase and several other styles we used to make can still be found displayed on the upper shelves of our showroom in Neenah, we retired these styles in the 2000s after we found what really works for us.
Jugs, jars and just about everything else
Although today we focus mostly on small pieces like mugs, steins and bowls, Sunset Hill Stoneware used to make stoneware versions of everything short of the kitchen sink. As anyone who has ever seen any of our old catalogs can attest, we used to make dog dishes, candles holders, jugs and almost anything else we could throw and fit into the kilns.
We've opted to shrink down our catalog and focus on what we do best since those days, but we still fondly remember some of these pieces and keep them around in our showroom in Neenah and tucked away in other parts of our office and facility. There are also plenty of mug, kitchenware and stein styles we've retired that accompany them on our shelves. While some of these styles are still in the wild, they're increasingly elusive.
A lot of these unusual ceramic pieces date back to Sunset Hill Stoneware's retail days in Neenah. While we've never had our own proper brick-and-mortar location, we paired closely with the Hang Up Gallery to sell some of our more unique pieces with stock art and other decorations early in our company's history. Although we no longer use this local gallery as a retail space, we still provide branded mugs with a local flavor to the business.
We sometimes give away some of these increasingly rare pieces today. The best way to get one of your own is to follow us on Facebook and watch for giveaways we host in the future.
Sunset Hill Stoneware, past and present
Remember when our logo was really intricate and complex? Yeah, us too. We have a handle-free, Mountain Brown mug in our office to remember it.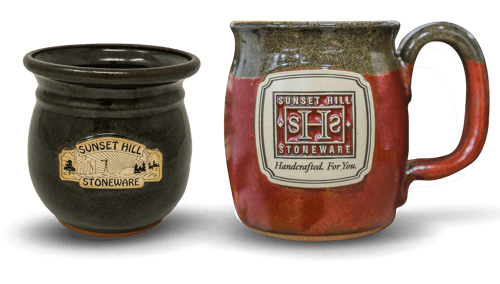 Originally, Sunset Hill Stoneware's name was coined when Tom and his business partners watched a beautiful sunset climb beneath the slopes of one of the many hills west of Dale. Our first logo took inspiration from this beautiful scene as well, with the sun shining its many rays over a barn, weather vane and trees. Sandwiching this rustic landscape was the company's name on the top and bottom of the logo in swerving letters.
We still have several pieces with our original logo dating back to our infancy, including several mugs with the same level of quality and craftsmanship you'll see on our products today.
However, as time wore on, we knew our logo was due for a facelift. In the mid-2000s, we traded in our sunset scene for a sleeker, square logo in brown and white. The brown represented the natural clay we used to create our mugs and captured our more rustic attitude.
We kept that logo for the better part of 10 years. After a while though, we wanted to reinvent ourselves as a company and speak to a wider demographic. The change from earthy brown to black may not seem like much to the average consumer, but with first impressions more important than ever, having a sleeker and more universal color helped us come off as more contemporary. Considering how we prioritize innovations, our modern current logo felt like a step in the right direction.
Our 20th year and beyond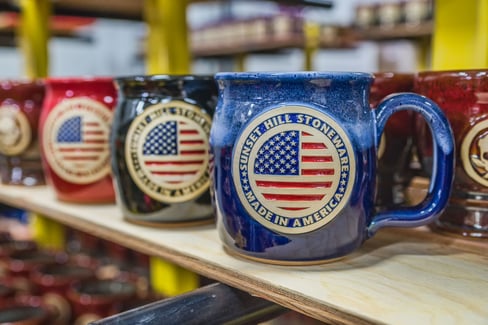 If we do say so ourselves, we went all out during our 20th anniversary year. Ever hard at work, the scientists at the Sunset Hill glaze laboratory premiered six new glazes this year and continue to experiment with even more new colors behind the scenes.
We also debuted our new online store. Filled with special-edition mugs and steins that can't be found anywhere else, our online store's latest iteration builds on what we've learned from running our old webstore in years past. Now, anyone can order a handmade mug of their own or give it as a gift to their loved ones, with more contemporary and unique styles. We even offered some 20th anniversary edition mugs in our newest glaze colors to debut our online store.
Sunset Hill Stoneware also took some steps to make it easier for anyone to find mugs that our business customers are selling. By popular demand, we developed an interactive map to show where you can find Sunset Hill Stoneware mugs across America and beyond. We update this map monthly to make sure the information is as accurate as possible.
Sunset Hill Stoneware plans to add even more updates and ideas for a better user experience in our 21st year and beyond, along with new glazes and styles.
The future is bright for Sunset Hill Stoneware. We're supplying more people and businesses than ever before with unique coffee mugs and branding solutions that show how much they care about quality. We can't be sure what the next few years might bring for our company, but we're excited to see what's yet to come for us and our American-made stoneware.