Brewery Tour: Find Sunset Hill Stoneware in Southeast Wisconsin
Milwaukee and its surrounds are known first and foremost for two things: cheese and beer. The history of the city, and in many cases our own history, was influenced by these breweries. The final part of the Sunset Hill Stoneware brewery tour makes a five stops in southeast Wisconsin around the Brew City. This leg of the stein and mug tour pairs well with a trip to Summerfest or the Wisconsin Beer Lovers Festival.
Find all our Wisconsin brewery tour stops on this map.
As always, please enjoy these Brew City beers responsibly.
DELAFIELD BREWHAUS

Located in the western Milwaukee suburb of Delafield, Delafield Brewhaus is a popular local venue for all kinds of events, including weddings. The groundwork for the brewhaus came in 1998 when Brewmaster John Harrison cleared the land on which its building now stands.
Delafield Brewhaus offers five beers year-round, plus seven more at different times of the year. Some of these include the Naga-Wicked Pale Ale and the Delafield Amber, which won medals at the 2014 World Beer Championships. Some of their seasonal beers on tap include the XPA Citra, the Strawberry Ale and the Forgotten Fermenter Imperial IPA. Many of the beer house's offerings are part of a series with limited runs. Be sure to watch the Facebook page and get in for a taste while you still can.
Delafield Brewhaus also offers Sunset Hill Stoneware products as merchandise for its customers. Ask about getting a mug or stein for yourself when you visit.
TYRANENA BREWING COMPANY
Found just off of I-94 in the small town Lake Mills, less than an hour outside of Milwaukee, Tyranena Brewing Company was officially established in 1998 and began serving its beer to the public the following year.
The brewery's namesake comes from a legendary tribe that lived near Lake Tyranena, now called Rock Lake. This tribe made stone structures and mounds under the lake and mystified local residents for years.
Whether it's from a pyramid-building tribe or just from retreating glaciers leaving rocks on the lake bed, the name stuck. Today, Tyranena Brewing Company honors the ancient tribes of Wisconsin in its Headless Man Amber Alt. Other significant events in Wisconsin history are also referenced in their Chief BlackHawk Porter, a dark beer dedicated to the Sauk leader who lost his land in the war which bears his name.
Other beers Tyranena offers include the Bitter Woman IPA, Three Beaches honey blonde and the Rocky's Revenge American brown ale. During August, you can even get a taste of the Gemuetlichkeit Oktoberfest, though it won't last long.
During September, the brewery also hosts the Tyranena Oktoberfest Bike Ride to benefit Tomorrow's Hope, a local charity aiding residents with life-limiting illnesses including cancer, Alzheimer's, lung disease and more.
Later in the year, the brewery also hosts the Tyranena Beer Run. This charity run benefits the Lake Mills Food Pantry and organizations providing supplies and shelter to residents and pets. Reportedly, the event collects roughly 1,000 pounds of food each year. Registration for these 13.1- and 4.37-mile runs around Rock Lake begins each year in the spring. You may even be able to pick up a Sunset Hill Stoneware mug as a prize for participating each year.
THE FERMENTORIUM
On the edge of Cedarburg, The Fermentorium is a playground of experimentation that offers Sunset Hill Stoneware beer steins to mug club members. But, in addition to offering handsome steins and killer discounts, they also have a ton of beers on tap.

Living up to their slogan, "Preserving tradition, unleashing imagination," the Fermentorium produces dozens of beer varietiesin five different series; there are too many for us to list. However, some of the highlights include the Frühlingsbock lager, the Rainbows & Lollipops IPA, Mango Juice Packets American IPA, the barrel-aged Tequila Barrel XXX and a whole mess of pilot brews available to taste.
The Fermentorium produces so many new beers on a regular basis that they host New Brew Thursday every week so patrons can get a taste of the new brew of the week—sometimes there are even two. While there may only be a five-gallon pilot beer, it could potentially include a new large-batch release. The only way to find out what's new on tap is to visit the brewery on Thursdays. You could even get a new Sunset Hill Stoneware stein out of your trip.
For those looking to burn calories for brewskies, the Fermentorium hosts Down Dogs and Drafts, a yoga class with beer tokens. The class is suitable for all levels of yoga experience and occurs twice per month.
SPRECHER BREWING COMPANY

Located on the northern side of Milwaukee's metropolitan area in Glendale, Sprecher Brewing Company has a bold history dating back to 1985. According to the company's website, before that year, you could not find a microbrewery in Milwaukee.
The brainchild of Randy Sprecher, Sprecher Brewing Company was the first craft brewery in Milwaukee since Prohibition. Sprecher took his specialized skills and experience working at Pabst and built his brewery in Walker's Point. Even after a retainer wall fell into the river and the parking lot at the brewery's first location fell in after it, he continued to sell his brews.
Sprecher Brewing Company has five beers available year-round with German-style flavors and brewing processes, including the Special Amber Vienna-style lager, the Black Bavarian Schwarzbier and the Abbey Triple Trappist-style tripel, plus seasonal offerings like their Pilsner. The brewery also produces three types of hard cider, five hard sodas and also produces limited release beers.
Those of us who don't drink can also try something while visiting the Sprecher Brewery, including root beer, cherry cola, the Orange Dream and other non-alcoholic sodas.
Sprecher Brewery offers Sunset Hill Stoneware products among their merchandise, especially during the holiday season. Be sure to keep an eye out for our mugs and steins during your next tour of this Milwaukee staple.
MOBCRAFT BEER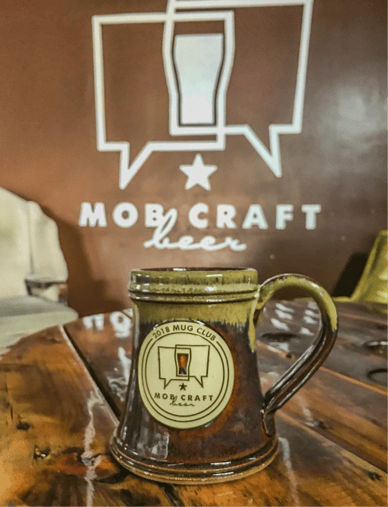 Standing proud in the heart of Milwaukee's Walker's Point neighborhood, MobCraft Beer's concept is in a league of its own. The brewery crowdsources almost all of its beer, meaning beer lovers across the US send ideas to the brewery.
MobCraft has a series of eight flagship beers on tap, including the Rhubarb IPA, the Low pHunk sour ale and the curiously named Bat$h!t Crazy coffee brown ale.
The latest crowdsourced beer flavor changes from month to month, and each flavor can sell out quickly. Some examples include May 2018's Cherry Andromeda IPA, the Squeeze the Day double IPA with strawberry and lemon in April 2018 and the Stitch & Snitch sour ale with raspberry and peach, which was selected in February 2018 with a delayed release.
Many of the winning beers come out through a subscription program with members all over the country. However, MobCraft Beer also has a taproom where guests can try exclusive brews while enjoying views of the brewhouse and their Wild & Sour room.
MobCraft Beer provides Sunset Hill Stoneware steins to its mug club members. Enrolled members get discounts on beers, 15 percent off on their merchandise, an annual mug club party and a beautiful mug on top of all that, plus more. The enrollment form can be found here.
You can find the other three parts of our brewery tour here: