Unique Coffee Mugs and More
We've made a lot of unique mugs, both for other people and for our own online store. No two of these mugs are exactly alike, but they all make your first cup of coffee in the morning taste even better and they're all made in Neenah, Wisconsin.
Let's take a look at some of the most unique mugs and custom beer steins we've made that you can look for "in the wild" or use as a reference point for your own unique coffee mugs.
Stoneware mugs in coffee shops
While any of our mugs are a good companion for coffee, there are some mugs that are just ubiquitous at your local coffee shop. Some of our most distinctive styles are also some of our most popular at coffee roasters and cafes.
The Potbelly is one of our most popular and distinctive mug styles with its curvy silhouette and comforting hand-feel. A classic choice for coffee houses who want to show they care about quality, the Potbelly can be decorated in a rainbow of glaze colors and with finely detailed artwork or logos.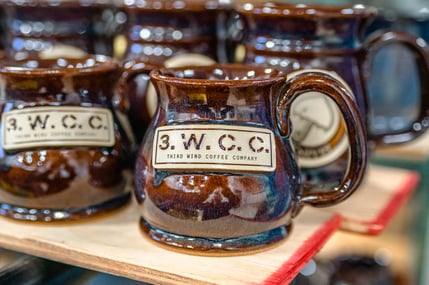 The Executive Slim is a more traditional style, but it has an elegant shape that lives up to its name. Perfect with a multitude of medallion shapes, it's a versatile way to represent your company logo. Although a lot of coffee shops like to pair the Executive Slim with solid glaze colors, it makes a great vehicle for the two-tone color of your choice as well.
The Morning Rambler got its name because it's the best companion you could ask for on a sunrise stroll. Its sleek, contemporary design makes it perfect as a gift or souvenir, and it really allows artwork and logos to shine without distraction.
With 14 unique mug shapes and sizes, Sunset Hill Stoneware's handmade coffee mugs are a great branding tool for coffee shops. We're also open to innovative ideas and have helped some of our coffee roasting customers show off their creative chops, such as with the mugs we've done for Iron Bean Coffee Company and other roasters who love to experiment.
National park mugs and other gifts
Dozens of state and national parks around the country have Sunset Hill Stoneware mugs in their bookstores and gift shops. These mugs support the park by providing funds to help maintain their facilities and attractions, along with promoting conservation efforts.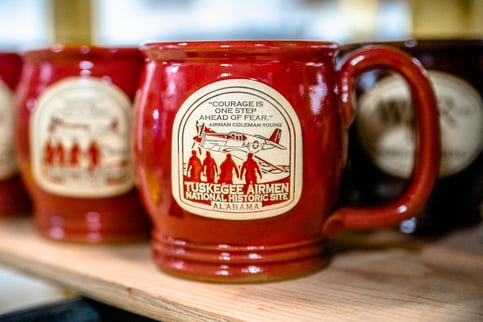 Many of our state park mugs and national park mugs feature the most prominent features of the attraction they represent on the medallion or animals and plants that can be found within the park. For example, our custom beer mugs for Tuskegee Airmen National Historic Site features detailed depictions of the fighter jets and silhouettes of America's first black flying squadron in World War II. Mugs from parks like Everglades National Park and Canaveral National Seashore feature alligators, herons and other wildlife for a unique souvenir after you return home.
The Sunset Hill Stoneware blog has highlighted a few different mugs from state and national parks. Some of these have included a road trip following important events in the Revolutionary War, the fight for women's right to vote and a number of state parks around the country. We plan to further highlight additional national and state parks with our mugs on an ongoing basis.
We offer a map of stoneware that you can use to find mugs at all your favorite parks and businesses. This map is updated every month.
Unique mug shapes and styles
For more than 20 years, Sunset Hill Stoneware has made mugs, steins and other stoneware products of all shapes and sizes. We've refined our catalog so that we could focus on what we do best, but that hasn't stopped us from making more than a few unusual shapes and styles over the years.
In the past, we use to make stoneware chalices and goblets for our customers across the United States. These chalices had thick, tall bases that made them tower over our other products. They were popular among an eclectic group of our customers that included everything from bed & breakfasts to renaissance fairs and festivals. However, we ultimately decided to retire these pieces a few years back, since they were particularly niche.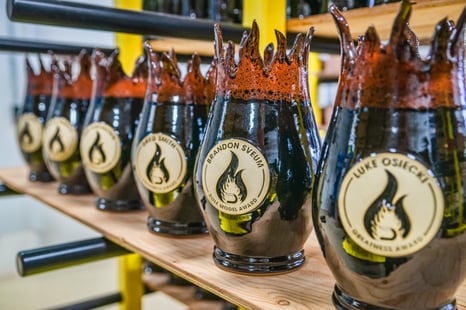 All this isn't to say that we never make anything besides regular-sized mugs, steins and kitchenware, however. Once in a while, our potters will make mugs that hold several gallons of coffee for our customers looking for a unique display item for their stores.
We've also made custom trophies for our clients to give to their employees for excellence. These  unusual trophies were fired in our kilns with our Tigers Eye glaze and topped with spikes, so they resembled flaming torches. We ended up hand-delivering these trophies to ensure that they were shipped safely.
Ultimately, the trophies were a hit for everyone who earned them. While we don't make stoneware like this often, we're open to working with just about anyone willing to have a special ceramic award made.
Customized coffee mug shapes
Most people don't have to even think about how they're going to drink their morning cup of coffee. However, there are some members of Sunset Hill Stoneware's community that need to use more effort to do these things every day. This is due to disabilities and physical conditions like ectrodactyly, a genetic defect that impacts the development of the hands.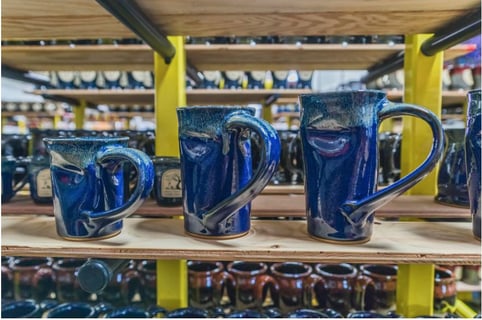 Jenny Schmoock, who lives in the nearby town of Shiocton, Wis., has ectrodactyly. Because several of her fingers are missing or fused together, she has trouble with certain tasks that most people don't have to think about. For example, she has to use both hands to pick up a coffee mug, which can make it difficult to do other tasks while drinking her first cup in the morning. She's also had to use a customized throttle for her ATV and other custom products.
Sunset Hill Stoneware's own master potter, Jason Sonsthagen, worked with Jenny to make customized coffee mugs and cups for her and her daughter, who also has the condition, based off of soda cans they had crushed to fit their hands. Jenny's specially made mugs now allow her to drink coffee with only one hand.
"I was actually really surprised," Jenny said. "I didn't think it was going to be that perfect."
"It's a one-of-a-kind," she added. "Everyone around is afraid to wash it for me. They're afraid to break it!"
Sunset Hill Stoneware has made multiple mugs for Jenny based off of the same warped design to fit her hands. We've also provided Jenny with customized lids for her mugs so she can use them on the go. As she continues to live and work in Shiocton, Jenny has turned to educating others about disabilities and helping her daughter do the same for her classmates and friends.
Holiday-themed mugs and more
Looking for a way to hyped up your patrons for your business' holiday celebrations? Sunset Hill Stoneware has made countless mugs for all sorts of holiday occasions.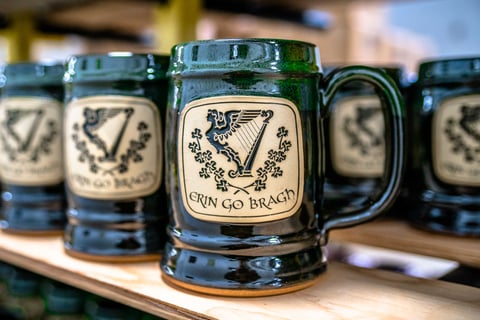 Some of our most creative mugs were made for people or groups who wanted to get a little spooky around Halloween. To name just a few, we've done mugs for the Grateful Dead's website that feature the band's artwork inside of a jack-o-lantern. We've also made plenty of mugs for everything from local haunted houses to online stores for the witch or wizard in all of us, along with many more.
The creativity comes out at Christmas, too. Some of our customers like to take advantage of our full gallery of stock artwork with holiday options for their mugs, but other groups like to make their own logos more festive in time for the holiday season. Some of the highlights include police badges with Santa hats, a homey gingerbread man and St. Nicholas with a hip-hop twist.
Our custom beer mugs are also a popular choice for craft breweries and pubs during drinking holidays like St. Patrick's Day and Oktoberfest. These mugs make great collectibles for mug clubs, awards for race participants and more during every brewery's holiday event.
The possibilities for your unique coffee mugs and custom beer mugs are virtually endless. No matter what your business or organization needs for branding, corporate gifts or everything in between, Sunset