The Hidden Heroes of Women's History Month
The historical impact of women on the world runs deeper than most people can imagine. Countless women have contributed to where society is today throughout history, often with their work going uncredited. March is Women's History Month, when we celebrate the work women have done with society, science and major events throughout history, along with unique mugs that honor their efforts. To kick off this month, here are four women whose legacies we honor and support through our stoneware.
Women's Rights National Historical Park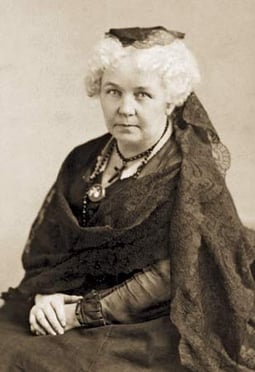 Sunset Hill Stoneware has mentioned Women's Rights National Historical Park in Seneca Falls, N.Y. before. In this building on Falls Street, hundreds gathered in 1848 to outline the need for women's legal rights. This marked the beginning of a 72-year struggle for women's suffrage in the U.S.
Elizabeth Cady Stanton, a leader of the women's rights movement, organized the Seneca Falls Convention as result of her frustration with the subservient role women played. The two-day convention resulted in the drafting and signing of the Declaration of Sentiments, modeled after the Declaration of Independence. This new declaration aired the grievances women had with being denied the right to vote, taxed while being oppressed and treated as her husband's property after she married.
The ideas in the original declaration are common sense now, but at the time they sparked an uproar. The Oneida Whig, a newspaper based in Oneida, N.Y. even called the Declaration "the most shocking and unnatural event in the history of womanity. If our ladies will insist on voting and legislating, where, gentleman, will be our dinners and our elbows? Where our domestic firesides and the holes in our stockings?"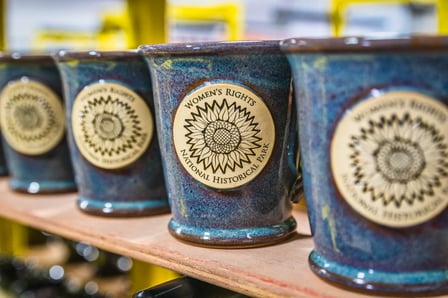 Whether the author of that article ever overcame his torn socks or the invention of central heating is unknown. However, the U.S. Constitution enshrined equal voting rights in 1920. Equal rights in the workplace followed later, ensuring that women and men would be equal at work under American law.
Visitors who see where it all started at Women's Rights National Historical Park can find mugs depicting sunflowers. These were an early symbol of the suffragist movement. These mugs are available in a host of different colors and styles including Imperial Purple and Stormy Blue, all  of which feature facts about the park, Elizabeth Cady Stanton and the suffragist movement.
Everglades National Park
Although Everglades National Park might not be the first thing that comes to mind for women's history, the connection is deeper than it seems at first glance. Were it not for the groundbreaking work of Marjory Stoneman Douglas, this beloved national park might not exist today.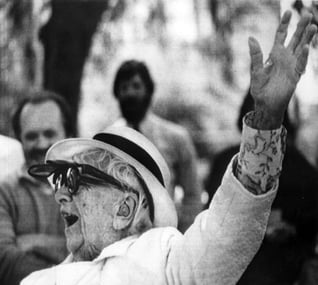 A prominent feminist, journalist and civil rights activist, Douglas spent her life protecting the Florida Everglades. Starting in the 1920s, Douglas involved herself in conserving the marsh and its fragile ecosystem. She angered sugarcane growers, real estate tycoons, the Army Corps of Engineers and Richard Nixon. They threatened the misunderstood region in south Florida and saw it as a waste of land. To improve public perception of the Everglades, Douglas spent five years researching the region in detail and published her book, Everglades: River of Grass.
The book was a huge success, selling out its first edition within a month. It drove Florida residents to see the Everglades as a vital part of their lives and culture worthy of protection. Douglas went on to oppose the drainage of the Everglades for a Miami suburb, the development of a new airport and more. It was all to protect thousands of plants and animals living in south Florida.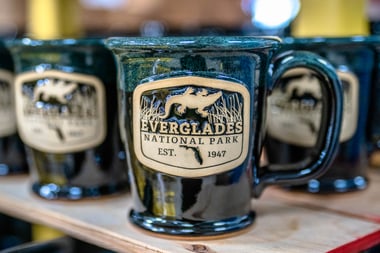 Were it not for Marjory Stoneman Douglas, one of the world's most complex ecosystems might not exist. You can see her legacy in south Florida in the hundreds of square miles of wilderness.
To support the conservation of the Everglades, Sunset Hill Stoneware provides unique coffee mugs at the park's visitor centers. These mugs might include our Morning Rambler and Happy Soul styles in many glaze colors, featuring an alligator on the medallion. Each mug supports the park and its preservation as a part of Douglas' ongoing legacy.
Madam C. J. Walker
Shown at the CupTalk Café  in Hemingway, N.C., the first woman in the United States to become a self-made millionaire, Madam C. J. Walker came from poverty and went onto be a philanthropist who made a fortune. The child of free sharecroppers, Walker was born in Louisiana after the Civil War. She worked as a maid by the time she was 10 years old.
Before Walker sold her products, black women had to use chemicals like lye on their hair. Walker was no exception to this. She suffered skin disorders in her scalp after using these harsh products and having a stressful life while she grew her business. However, her luck turned when she moved to St. Louis, where her brothers trained and worked as barbers.
Throughout her life, Walker worked for black women's independence and developed her own hair care products to follow suit. She trained thousands of women as beauty culturists and business owners. She also grew her fortune and donated large sums to civil rights organizations like the NAACP. Experts estimate her net worth at $10 million.
CupTalk, a store selling coffee mugs with a focus on black history, has mugs dedicated to Walker's legacy. These historic coffee mugs feature Walker's detailed likeness on our Wide Mouth and Straight Shot mugs in Mulberry Blush and Midnight Black.
Pioneer Woman Museum
Located in Ponca City, Okla., the Pioneer Woman Museum shows the contributions that women of all races made to Oklahoma. Outside the museum is the Pioneer Woman statue, depicting a woman wearing a sunbonnet.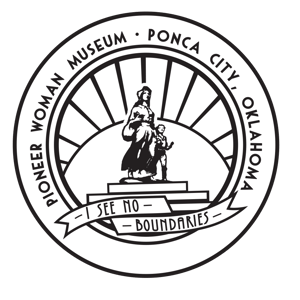 In the late 19th century, millions of pioneers went west to make their fortunes or develop land to call their own. Among these were women with the enduring spirit to search for better lives and work. The Pioneer Woman Museum honors these women and the sacrifices they made on the frontier.
Inside the museum, the Oklahoma Historical Society has recreated the life of a pioneer woman in many exhibits. Each one shows the back-breaking labor women performed so their families could survive a trek across hundreds of miles. It also shows their work and contributions to society on the frontier and within Oklahoma. There are also exhibits on Native American history, famed sharpshooter Annie Oakley and displays about 19th century life.
To support its work, the Pioneer Woman Museum sells custom mugs depicting its statue on the medallion. These Renaissance Voyager and Potbelly mugs are in the museum gift shop in our most rugged colors, including Copperhead Run, Brick Red and more.
Listing every contribution women have made in the history of the United States and the world would make this blog post too long to read. While there are issues women must face before we achieve true equality, supporting their businesses is a good start. Sunset Hill Stoneware is proud to work with these organizations and give them the top promotional product for businesses. To get your own handmade coffee mugs to promote your brand, ask about putting your logo on a mug today.