Spudtastic State Parks: Idaho Parks with Sunset Hill Stoneware
There's a reason Idaho's nickname is the Gem State. Although this western state is perhaps best known for potatoes, Idaho state parks also feature oft-overlooked natural beauty.
Parks and natural spaces abound in Idaho. There are even some Idaho parks where you can find Sunset Hill Stoneware to bring home as a souvenir. Although there are too many beautiful spaces in Idaho to list, here are a few that are worth highlighting.
Castle Rocks State Park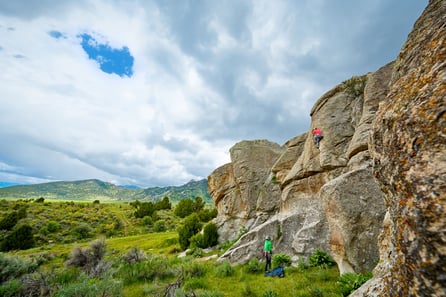 Near the town of Almo in south central Idaho, Castle Rocks State Park shares a visitor center with City of Rocks National Reserve. The rock formations in the park tower above the landscape like spires, eroded into unique shapes with the help of weather patterns and hundreds of thousands of years.
Loaded with trails for biking, horseback riding and biking, Castle Rocks State Park is a destination for rock climbers and hikers who want a taste of what the Rocky Mountains have to offer. Those who want to have an extended experience at the park and reserve can stay in the century-old Bunkhouse and Ranch House buildings. You can also go on a classy glamping adventure with the park's yurt accommodations, featuring a king-size bed, mini-fridge and other amenities.
Although the ceramic coffee mugs you'll find at the park's visitor center bear the name of City of Rocks with a pinyon pine branch, they're still a memorable way to take a piece of your trip home with you. After you finish your rock climbing or hiking adventure in the twin parks, keep an eye out for an extra-large Wide Mouth mug in Copperhead Run, one of our most popular mug colors.
Harriman State Park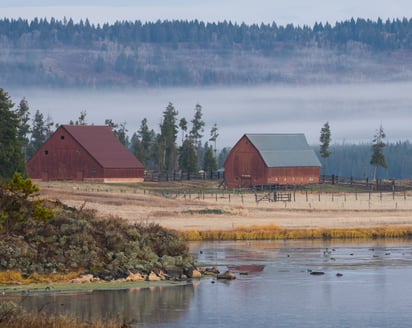 Want the scenic beauty and wildlife you might find in Yellowstone National Park, but don't like sharing space with hundreds of thousands of people during the peak summer months? Harriman State Park is the place for you. Located a short drive away from Yellowstone's western edge, Harriman State Park is located within a huge wildlife reserve. According to the Idaho Department of Parks & Recreation, the park hosts some of the best fly-fishing spots in the country and has 22 miles of trails. Visitors to the park have a chance to see moose, elk and trumpeter swans all year long.
Aside from being a natural wonderland, Harriman State Park gives guests a taste of the Wild West. The park was build on the site of the Railroad Ranch, once a private retreat for railroad barons. The buildings have been preserved and can now be used by visitors.
The state park coffee mugs we make for this Idaho getaway features the silhouette of one of the park's famous moose with a mountain landscape in the background. These unique mugs come in some of our earthiest glazes, including Cinnamon Roll, Silvery Night and Brick Red.
Hells Gate State Park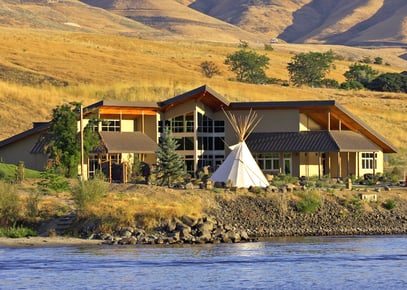 Entrance to the deepest river gorge in the United States, Hells Gate State Park is located near Idaho's state line with Washington. Aside from having activities on the water at the mouth of the canyon, Hells Gate State Park is rich with history. Lewis and Clark traveled through the area on their expedition, and the park has a discovery center highlighting their adventures.
Although the greatest depths of the gorge actually begin a few miles downstream from the park, the Snake River is a popular spot for rowing, fishing, swimming and hiking in the canyon. Fans of the great outdoors can also join park staff to learn more about camping, cycling and bird-watching through the First Time Adventure Program.
Anyone who treks through Hells Gate State Park has a chance to find a Morning Rambler or Straight Shot in a number of different color options, including Morning Mums, Galaxy Night and Royal Moss. These stoneware mugs feature the Snake River cutting through the canyon for which the park is named with the colors of the mug popping through the open spaces in the medallion. It's a memento of your adventure down Hells Gate Canyon that will last for years to come.
Priest Lake State Park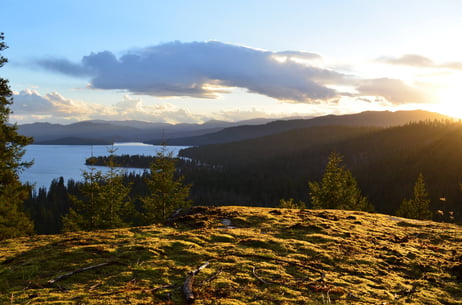 Close enough to the Canadian border that you can almost smell the maple syrup, Priest Lake State Park is surrounded by vast mountain ranges and dense forests teeming with wildlife.
Most people wouldn't expect Idaho to be a destination for white, sandy beaches and crystal clear waters, but that's precisely what can be found at Priest Lake State Park. Campers can enjoy the beautiful scenery at more than 150 campsites, including a group camp with a private beach and dock on the lake. Man's best friend can even join in on the fun, since this is one of the only parks in Idaho with pet-friendly beaches according to the Idaho Department of Parks & Recreation.
Capture your experience at Priest Lake State Park with a dishwasher- and microwave-safe coffee mug that can be found at the park's visitor center. Each Priest Lake State Park mug features the park's logo, with pines and the lake nestled in the mountains.
Round Lake State Park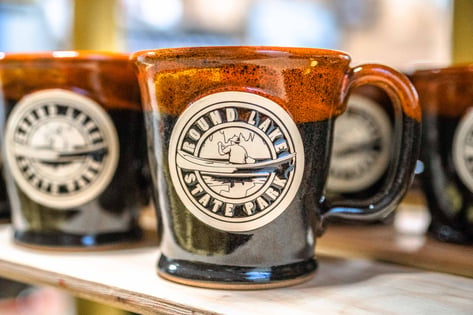 Tucked a few miles from Idaho's largest lake, Round Lake State Park is the perfect Idaho state park for backpackers, anglers and everyone in between who wants a taste of privacy. The pint-sized state park features miles of hiking trails zigzagging around a lake with placid, glassy waters and plenty of wildlife passing through, including plentiful trout.
Round Lake State Park's staff offers frequent guided nature walks so visitors can see signs of the wildlife and wildflowers around the lake. The park also offers a Junior Ranger program and other activities for the whole family to enjoy, whether they're staying at the campgrounds overnight or just coming to visit during the day.
Visitors who want to take home a piece of their trip to Round Lake State Park can find mugs in a few different sizes, including our modest Morning Rambler and the shorter Tom's Mug. Mugs from the park feature a rower enjoying the lake on glaze colors such as Autumn Fire and Silvery Night.
Idaho's state and national parks make for an idyllic getaway from the noise and crowds of the city. You'll find natural wonders at every turn, plus plenty of unique coffee mugs and beer mugs to add to your collection. To find where each of these Idaho state parks is located, along with numerous others across America, check out our Mug Map.