National Parks to Visit in 2019
It's time to hit the road! With summer underway, now is the perfect time to take a trip to see some of the greatest natural and cultural treasures in the United States and to bring home a few handcrafted, sustainably made stoneware coffee mugs. Here are just a few of the national parks to visit across America in 2019, from the most popular to ones that are off the beaten path.
These national parks are across the country and will be the highlight of any trip you take this summer.
Death Valley National Park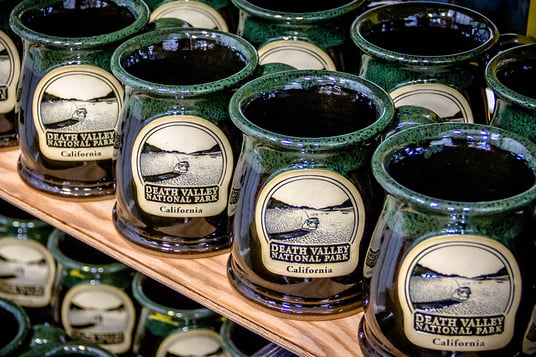 Straddling California and Nevada, Death Valley is the single largest national park in the continental United States. It's also the hottest point in North America and dry enough that plants only grow in certain areas.
However, one of the most mysterious sites in the park is the Racetrack. This dry lake is famous for its sailing stones—stone slabs that seem to slide across the ground by themselves.
Scientists spent years trying to solve the mystery of the moving stones, which weren't being moved by any animals or humans. Finally, in 2013, researchers discovered sheets of ice letting the rocks slide across the Racetrack on a cold night, leaving tracks in the ground.
The Racetrack's fascinating phenomena can be seen on souvenirs in the park, including Sunset Hill Stoneware national park mugs like the Wide Mouth in Royal Green, with a detailed picture of the Racetrack on the medallion. Taking one of these home not only supports park maintenance and research, but also is a high-quality way to commemorate your trip for years to come.
Petrified Forest National Park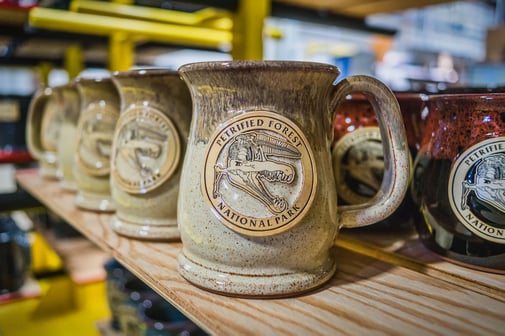 Don't let the fact that it's in the middle of nowhere fool you. Petrified Forest National Park is a wonderland of fantastic views, dinosaur bones and plenty of other fossils that give the park its name.
Located in northeastern Arizona and crossing Interstate 40, Petrified Forest National Park is technically a bit closer to, or the same distance from, Albuquerque, N.M. and other New Mexico towns than it is to parts of Phoenix. However, this is the place to be if you don't like crowds. According to NPS records, Petrified Forest saw about 10% of the visitors that Grand Canyon National Park saw in 2018.
That doesn't mean there's nothing to see here. In fact, the Painted Desert is a hiker's paradise with both trails and backcountry routes that go off the path. It's also a great place to bring kids or anyone else who loves fossils and dinosaurs. Paleontologists work in Petrified Forest National Park, and there are plenty of fossils to discover.
After you finish exploring the desert, you may want to check out the Painted Desert Visitor Center. The Petrified Forest Museum Association runs the bookstore inside this visitors center and supplies souvenirs and collectibles that support the non-profit national park so it can continue to be a treasure in the desert. Look for a variety of stoneware mugs in multiple size options and colors reminiscent of the desert's wonders such as Cinnamon Roll and Galaxy Night.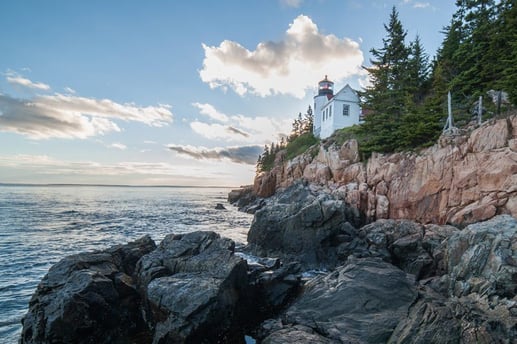 Acadia National Park
When you visit Acadia National Park in Maine, it can feel like you're visiting the end of the earth. Maine's rocky Atlantic coast is on full display. There are also crystal-clear lakes and forests that go from emerald green to a kaleidoscope of color in the fall.
On top of trails, Acadia National Park has plenty of wildlife to be found in every corner of the park. Peregrine Falcons nest here, and plenty of animals are around, from bears to bats to beavers. It's also an ideal place for a carriage rides inside the park. Although it's just a handful of islands off the coast, there are endless activities for the adventurous at heart.
Acadia National Park has several visitor centers, nature centers and museums throughout the park. On top of providing collectibles like enamel pins and patches, you might find national park mugs. The pottery mugs at Acadia National Park's Hulls Cove Visitor Center feature the park's sheer cliff faces on our largest pottery mugs, the Straight Shot and Java Taster. Each of these mugs comes in natural colors that pair well with the park's splendor, such as Royale Moss and Copperhead Run.
Crater Lake National Park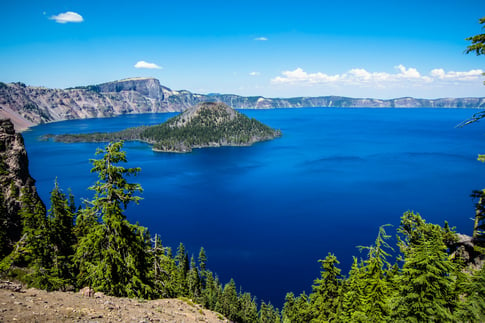 Aptly named, Crater Lake National Park centers around a pristine blue lake that formed when a volcano called Mount Mazama collapsed and then filled with water. This does not mean the volcano is extinct—like other mountains in the Cascade Range, including Mount St. Helens, it's still active. However, Crater Lake's volcano has thousands of years between eruptions. It's safe to say this one will be around for your summer trip.
Crater Lake is chock-full of beautiful scenery and fauna, with more than a few unusual features thrown in.
Boating and swimming access is limited at Crater Lake National Park. However, since the trout and salmon in the lake aren't native, the National Park Service encourages fishing. The catch is that you can only use artificial bait.
Like most other national parks, Crater Lake's work and preservation efforts have some outside sponsors. The Crater Lake Natural History Association supports the park through efforts to preserve its natural and cultural resources at the Steel Visitor Center. There, you might find some Sunset Hill Stoneware pottery in Royale Frost, a glaze derived from natural minerals that matches the lake's beautiful deep blue.
Grand Canyon National Park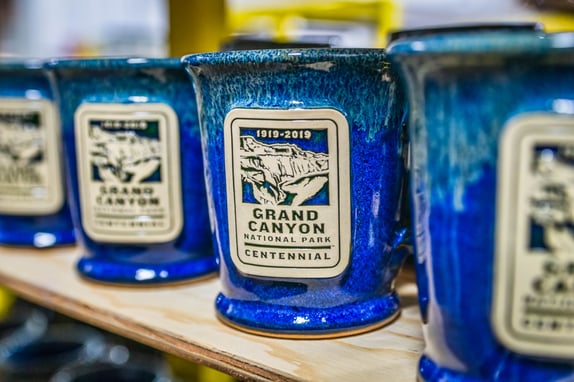 There's a reason Ron Swanson from Parks & Recreation referred to the Grand Canyon as one of two acceptable places to cry (the other being funerals). No matter where you are, you'll find a breathtaking view that will stay with you for life.
But, Grand Canyon National Park is way more than just a place to get the photo for your family's Christmas card this year. This canyon is a living record of the world's history, with layers predating the dinosaurs by a few billion years. While hiking or climbing through the canyon, you can see these layers and journey into the earth's distant past.
On top of features that would make a geologist swoon, Grand Canyon National Park is famous for offering mule rides. There are also opportunities for rafting on the Colorado River at the bottom of the canyon.
Supporting the work done at Grand Canyon National Park is the Grand Canyon Conservancy. This nonprofit organization operates the park's bookstores. It protects the park from light pollution, restore trails and works with Native American tribes to celebrate the canyon's heritage. Visitors can support their work both at the bookstores and online by purchasing souvenirs like stoneware mugs that are handcrafted and feature scenes unique to the Grand Canyon.
Hot Springs National Park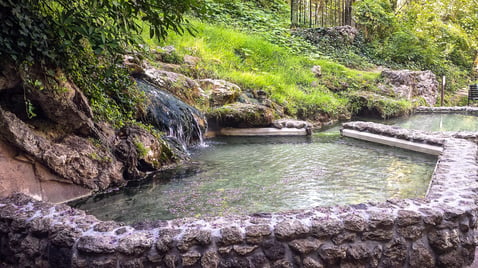 Nicknamed the "American Spa," Hot Springs National Park in Arkansas is located next to a city of the same name. Although situated in acres of forest just north of town and as great of a place for hiking as most of America's other national parks, the real attraction here is in the geothermal hot springs.
Found along Central Ave. inside the park, Bathhouse Row has several historic spas. There, visitors from all walks of life could come to enjoy health benefits from soaking in the natural springs. Although some of these bathhouses are now galleries, museums and even a brewery, a few still offer therapeutic spa treatments. Geothermal baths like these have been enjoyed all over the world for centuries, so it's only natural that a few would be open.
The park still runs one of these directly at Buckstaff Bath House. It's the ultimate way to cap off hiking and exploring the springs in the woods.
After you finish at the spa, Bathhouse Row Emporium just a few doors down serves as the park's bookstore. There, you can find goods like bath salts, body lotion and soap. Among these, you might also find a few handcrafted mugs to add to your collection, including the Potbelly in Copperhead Run and the Renaissance Voyager in Seafoam. These beautiful mugs keep the relaxation going by keeping your tea or coffee hot, all while showing a unique emblem of the steam pipes found at the park's bathhouses.