Love and Other Mugs: How to Use Stoneware on Valentine's Day
If you're stumped on last-minute Valentine's Day gifts for your special someone, there are plenty of options that involve using the perfect unique coffee mug. Read on for some tips on how to use stoneware this Valentine's Day.
1. Mugs as Gift Baskets
Want to give your dreamboat a classic gift with a twist? A unique mug filled with their favorite chocolate, flowers or a gift card to their favorite restaurant is an added surprise that won't feel too corny. Unless, of course, you fill the mug with popcorn, in which case it'll be just corny enough.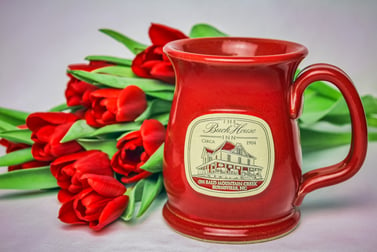 This gift idea is one that keeps on giving. Even after they've eaten all the chocolate you've given them, they'll be able to use their unique mug every morning with their first cup before work, potentially for years.
We recommend finding a mug from a local shop like Red Door Mercantile for an added touch when you get flowers or chocolates. You'd be surprised how soon it'll become your sweetheart's favorite. People love mugs that have a local flair, especially when they also have unique, intricate artwork.
2. Memories with Mugs
Does the person you care about most have a favorite national park, craft brewery or coffee shop? Finding a mug from their favorite place or in their favorite color makes for a thoughtful gift that shows how much you care about them and pay attention to details.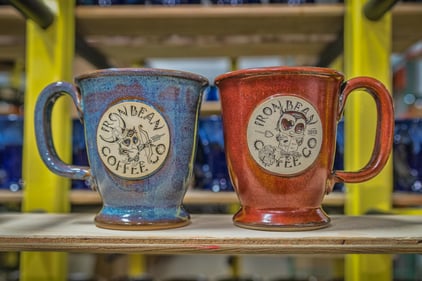 If your Valentine loves you almost as much as they love beer, a mug club membership or a custom beer mug from their favorite brewery may be the way to go. If they have a penchant for coffee, consider a a stoneware souvenir from their favorite roaster or even a unique coffee mug from the Sunset Hill Stoneware online store. No matter what your main squeeze is into, there's probably a mug for it.
A mug could become an even more special gift if it involves something meaningful to your relationship. Give them a mug from the museum where you had your first date—or, if you're married, the national park where you two became engaged. If you're feeling particularly extravagant, you could even present the gift on a trip to the park in question. After all, nothing says romantic but slightly over-the-top like a receiving a heartfelt gift overlooking the Grand Canyon.
3. Customize a Classic Gift
Wishing a happy Valentine's Day to your whole crew at work or a big group of friends? We've got 12 packs to compensate twofold for the six-pack most people will never have. These 12 packs can be customized with any design you choose, including stock artwork or with a name drop for your friends.
If your team or business has a unique name, we can make a Valentine-themed version of any logo with that name. While it's difficult for us to make mugs with each individual's name, you can put any single design you feel might suit your group on the mugs. They're also available in three of our most popular mug shapes and four of our most popular glaze colors, including our classic Red and the rustic Copperhead Run.
Just decide whether you'd like your 12 mugs covered in little hearts or something more hardcore, then leave the rest to us.
4. Get Creative
We're not a fly on the wall in your relationship, so we have no idea what you both enjoy or your tastes. Feel free to use any of the ideas we suggested, or use them as starting points to find your own creative gift. Everyone has slightly different tastes in gifts, so knowing you want to give your romantic interest a present is only the beginning.
Whether that involves a mug and some chocolates, a hot air balloon ride over San Francisco or something else, that's for you to decide. Just know where your relationship stands before going all out or barely going at all.
The sky is truly the limit, with only one overarching rule: Do not forget to give a gift to your significant other for Valentine's Day. Otherwise, you might end up celebrating Singles Awareness Day instead.