Congratulations! After months and years of hard work, you've finally opened your craft brewery. You're pursuing your passion for brewing and bringing your beers to other enthusiasts in your area. Soon, you'll likely have a legion of superfans who become regulars in your taproom. These fans deserve to be rewarded and engaged—starting a mug club is the perfect solution.
A mug club is a program that many breweries use to show appreciation for customer loyalty. Mug clubs often have limited membership, plus discounts and other benefits for members like exclusive tastings and access to special offers from the brewery.
There are  several tips to remember when considering how to start a mug club for your brewery or taproom.
Plan your mug club
Once you've decided to start a mug club for your brewery, there are several ways to develop how it'll work. Finding the mug club ideas that work best for your brewery takes planning and consideration, but there are a few formulas for mug clubs that are easy to follow.
Membership Fees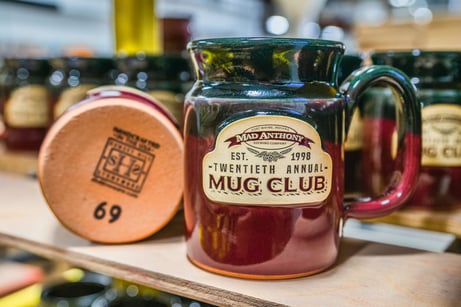 For many breweries, selling mug club memberships for a one-time fee is the easiest way to run the club from year to year. Advertising the beer club is a good way to start, especially if you announce that space is limited. People love exclusivity. Some people are even willing to pay for it.
A real-life example of a membership fee works well for craft brewery Mad Anthony Brewing Company. The Indiana-based taproom's mug club has limited memberships, but members get rewards and discounts on craft beer options all year.
Members of the mug club also get to take home their numbered mugs at the end of the year, while returning members can rejoin at a discounted rate.
Punch Cards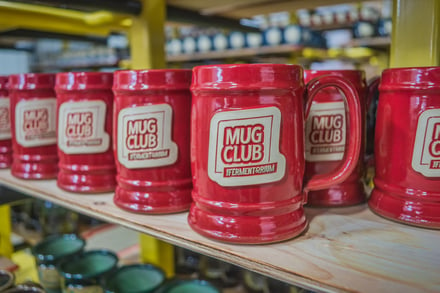 Like customer loyalty programs at coffee shops, you can use a punch card to push patrons to your mug club. Having a punch card system is ideal if your beer list is small or you focus on seasonal rotations.
There are plenty of creative ways to implement a punch card system for your mug club with multiple rewards, the top prize being that they get one of your coveted stoneware mugs.
Offer prizes for participants who get their card punched multiple times. This could include anything from patches to hoodies, all leading up to the grand prize in your unique beer mugs. It's like when you had to sell popcorn or fruit as a kid to win a bike or a Nintendo 64 during fundraisers, only it isn't a scam.
Wisconsin-based brewery The Fermentorium has a point system like this in place for their mug clubs. Members earn their way toward new swag with each visit, including trucker hats, upgrades to bigger mugs and German beer steins, plus a chance to develop their very own exclusive beer.
Tasting Challenges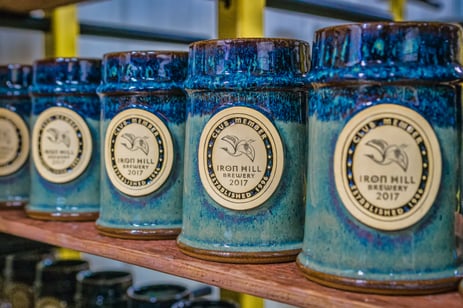 If your brewery serves dozens of different craft beer varieties, set up a challenge with entry into your mug club as the reward. Set up a tasting list that your patrons will have to complete within a certain time frame for them to be inducted into the craft beer club.
Make sure to include variety of different styles of beer, if possible. Some people are okay with drinking three different fruit-infused IPAs in a row. However, challenging them to drink a pale lager, an amber ale and a stout over a month forces them to expand their horizons to get their prizes.
The benefits of hosting a tasting challenge for entry into your mug club are twofold: Not only might your patrons find their new favorite beer, but you'll also get additional sales each time they sample another brew. Depending on how many members you allow into the club, the challenge pays for itself after the third or fourth beer.
Disclaimer: Encouraging your patrons to shotgun 30 of your brewery's craft beers in a single 24-hour period is not advised.
Develop Mug Club Incentives
Being in a mug club becomes even better for members if you offer more than just a mug and swag. Keep them coming back to your taproom every week with incentives that only mug club members get to enjoy.
Many breweries host Mug Club Nights, when members get discounts on beers or sneak previews of new brews. You could also offer discounts to mug club members all week, if they use their extra-large mug club mug to top off their next round.
Another way to treat your mug club members is to invite them to exclusive events. Got a new seasonal beer in the works? Let members have a first taste of it before anybody else at a private tasting party. You could also give them a sneak preview of your limited-batch brews through this method.

Offer Unique Mugs
It wouldn't be much of a mug club if you didn't offer your members a cool, unique mug. Whether it has your logo or a design unique to the program, your mug club mugs should feel exclusive.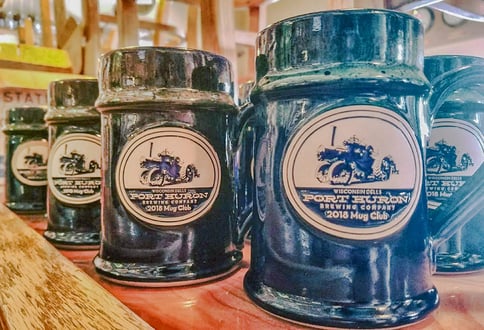 Don't be afraid to change up your mug club mugs, either. It's more interesting to get mugs in a new style every year, or even change up the glaze color. Regardless of the color or shape, stoneware is a good answer for your club's mugs because it keeps your beer cold longer than traditional glasses or mugs would.
Some breweries even offer new designs or artworks on their mug club mugs from year to year. One such brewery is Port Huron Brewing Companyin the Wisconsin Dells. Using different images of a rustic 1917 steam engine, each year's mug club mugs feature a new design, color and style.
Another way to promote your mug club's exclusivity is to add bottom numbering to your mugs. Whether your club has 50, 100, or more members, numbering the mugs highlights the limited space in the group. Once members take their swag home for the year, they can do so knowing that that mug club mug is one of only a handful like it in the world.
Even though Sunset Hill Stoneware offers bottom numbering, there's also an option for those on a budget. After you've received your stoneware mugs, number the bottoms with a permanent marker for the same results.
Starting a mug club doesn't take as much as starting your brewery did, but it's just as rewarding. It allows you to connect with your brewery's biggest fans and show them how much your appreciate their business and loyalty, all while making your brewery more fun and exclusive for everyone who joins.