Whether you've just opened your first small business or you're a marketing professional overseeing multiple locations, it pays to know how to market your  brand. In a digital age with more and more channels for selling your products or services, you may not know where to start. Or, you may have already started but aren't sure of which steps to take.
No two business' marketing strategies are exactly alike. However, Sunset Hill Stoneware has some basic guidelines to bring more customers through your doors and keep them coming back.
Establish Your Brand Voice
There's a reason it's called branding—done right, your logo is a cattle prod on your customer's brain. It distinguishes your brand from your competition and helps your customers find you and recognize your products or services.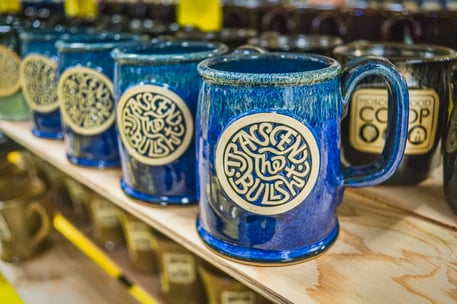 If you haven't already, take some time to find your brand voice. This is the unique way your brand expresses itself through your marketing materials, including words, images and videos. The customers you target and the products or services you offer shape your brand voice, though you shouldn't try to borrow the brand voice of any other businesses in order to find it.
Your brand voice could also change over time as your business grows. For example, Sunset Hill Stoneware used to have a narrow brand voice that was designed to speak to exactly one type of person: People who drink coffee on their cabin porch in the Adirondack Mountains. Since most people don't have cabins or live in the Adirondacks, but practically everyone needs something that holds liquid at some point in their lives, we've expanded our horizons. Today, our brand is more fun-loving, modern and designed to speak to a much wider audience with our unique coffee mugs.
Finding your brand voice takes soul-searching. Here are just a few questions to ask yourself:
What descriptive adjectives best suit your brand?
If your brand were a person, describe who they would be.
Is your brand fun-loving or serious? Formal or casual?
Who are your biggest customers?
The more questions you ask about your brand and customers, the easier it will be to develop your brand voice. This won't be a walk in the park though. Like all other aspects of marketing, developing your brand voice requires time and effort. You can't just establish it and then forget it. Periodically, take some time out of your schedule to see what about your brand voice is working and where you may need to adjust.
Social Media Marketing
In the digital age, it would be foolish not to consider social media marketing as an essential platform for your business. Posting your visual content, announcements for sales and other marketing materials on social media sites like Facebook, Twitter and Instagram lets you interact with your customers directly and develop your business' reputation with the public.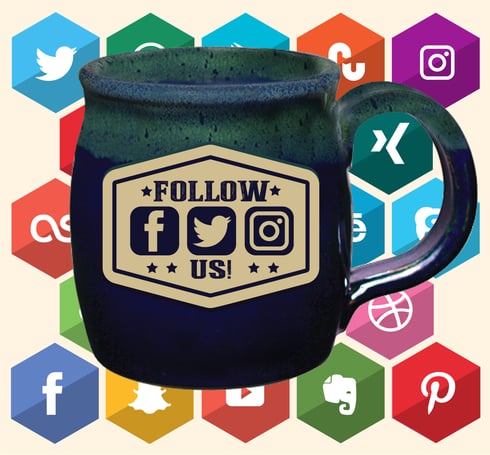 Determining where your audience is on social media is key to attracting the most relevant customers. Facebook has billions of active users, making it the largest platform of its kind in the world and typically a good place to start. Instagram is one of the fastest growing platforms right now and has more interactions than any other site—the perfect place to post those beautiful product photos you took. You can even go live on your Facebook or Instagram account and introduce new products with video, special events or other limited-time offers going on at your storefront or on your website.
The types of users you'll find on each platform vary. For example, Twitter encompasses a range of demographics, but its users skew younger and less formal than those on Facebook. If you can sell your product with a few photos or under 280 characters, Twitter may be the place for you.
These aren't the only options at your fingertips though. LinkedIn, a site geared toward professionals, is perfect for getting in front of customers if you have a business-to-business model. Pinterest is perfect for selling visually appealing products, and Snapchat allows you to post and share photos within a limited time span of 24 hours.
However, don't make the mistake of trying to use every single social media platform you come across. Find a few different channels that you know your customers are using and post there consistently. Otherwise, you'll be wasting your marketing efforts in places where you won't find any customers, sales or fans.
A word of caution: Never, under any circumstances, purchase follower or "likes" on any social platform you use. It might seem easier than waiting for your list to grow, but it doesn't result in more customers. Most of these purchased accounts are "bots," or artificial users.
Email Marketing
Once you know who your buyers are, email marketing is a safe way to establish your presence digitally. Customers and visitors to your business' website or social media pages can ask to subscribe to your mailing list so they will receive news about new deals, special offers or discounts they won't be able to find elsewhere.
Don't attempt this through your Gmail account or directly through your business' email address. It's not an efficient way of keeping track of your emails and leads to potentially big mistakes.
Instead, use an email automation platform to keep your email list under control and sending to the right addresses at the right time. Services like MailChimp, Drip or Hubspot allow you to manage your mailing list without having to get in the weeds and send to thousands of people at once. These services are not one size fits all though—research which platform best suits your needs before investing.
Just like purchasing social media followers, purchasing email lists is strongly discouraged. Not only is it a bad strategy for getting the payoff you're looking for; it's also illegal. The CAN-SPAM Act of 2003 strictly prohibits the buying and selling of email lists, and you could pay a hefty fine if caught.
Experiment with your Marketing Strategy
Good marketing has a long shelf life. That doesn't just mean that your post or email will stick with your customers for a while to come. When you absolutely nail it, it could mean using the same strategy for future campaigns, and maybe even for years.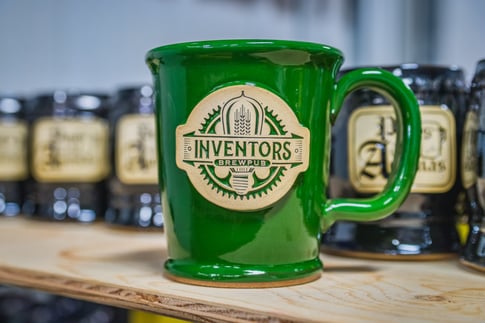 Finding the right marketing materials for your business is never a simple fix. It involves working across multiple channels, and you may find that some simply don't work  as well as others.
When that happens, don't stress. Simply adjust your campaign to focus on the ones that are working.
This also happens with a phenomenon known as ad fatigue. Ad fatigue occurs when your target audience sees the same marketing materials again and again, becoming less responsive. This is common on Facebook and during election years, where you see so many attack ads that you start to simply mute your TV during commercial breaks when you're watching the 6 o'clock news.
On the other hand, Sunset Hill Stoneware products are made to help your brand leave lasting impressions. The mugs last potentially for decades without wearing out, so your customers will remember your brand for years to come.
Use Targeted Brand Marketing
There's a technique that marketers call "spray and pray." It refers to sending your campaign materials to all of your contacts at once and then hoping sales come out of it.
That rarely happens. In fact, this strategy is like performing surgery with a chainsaw. You'll likely lose customers if you send emails to your entire contact list announcing a sale through MailChimp.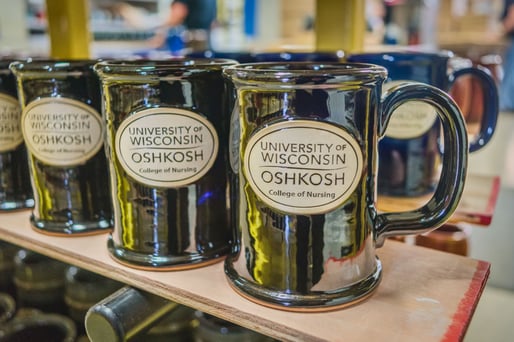 Instead, you'll want to be precise when you're deciding who to target in your marketing efforts. It may not always be the same group of people at the same time. For example, if you're a florist, customers ordering funeral sprays won't care about your sale on corsages for the local high school prom. In fact, they might even get annoyed and feel like your emails are clogging up their inbox.
Instead, focus only on the people who would find your sale or campaign relevant for the best results. Revisiting the florist example, to get the most out of your corsage sale, send messages to parents of high schoolers.
Some social media tools have made marketing to specific audiences easier than ever. Facebook allows you to find your audience based on everything from whether they're of a certain age to their professional field to whether they like football or baseball. Use these tools to your advantage and cut into that territory that you know will love your products or needs your services.
Use Creative Marketing Content

Your product visuals will be the first thing your customers see when they're shopping online or browsing social media. Photos and videos of your product must be dynamic. Otherwise, your online customers and fans on social media won't watch them.
We have plenty of tips for good product photography in marketing, including the rules of composition and lighting. Some pointers include keeping your product cropped tightly within the photo, be aware of the lighting you want, and avoid using your camera's flash indoors.
It also pays to know how to edit photos using editing software like Adobe Photoshop or GIMP. Photoshop has been used to create some of the greatest artwork of the modern era. GIMP is a free editing program that lets you touch up photos and change graphics as you see fit.
Here are some tools you can use in your photo editing software to help your product photography look picture perfect:
Brightness. Adjusting the brightness of your photos will affect their mood and your customers' perception.
Color Balance. Done right, changing the color balance in your product photos brings out its more subtle hues.
Saturation. Adjusting the saturation in your photography enhances your products' colors, especially if your inventory is brightly colored.
Spot healing. Newer photo editing software usually has this handy tool, which corrects everything from unwanted mustard stains to shadows or fabric wrinkles.
These four tools barely scratch the surface of what photo editing software can do. On the other hand, all the editing software in the world can't make up for a poorly taken photograph. Keep composition in mind and try to use more than the camera on your smartphone for the best possible results before relying completely on editing.
Conclusion
Marketing is not something that can be done on the side. You also can't "set it and forget it" and hope for good results. You have to wear many different hats as a marketer, whether you're crunching numbers to see how your efforts have paid off or where you need to make adjustments to your plan in the future, or if you're coming up with creative new ideas to advertise your brand.
Marketing your brand takes time and effort, but these tips and others from Sunset Hill Stoneware can help you get started on helping attract new customers to your shop and get them buying your shop's unique product offerings.