Fundraising for First Responders with Sunset Hill Stoneware
Fundraising for community causes is common for police departments all over the U.S. However, sometimes the officers in charge of these fundraisers prefer to use quality, American-made merchandise. That's where we come in. Here's how we helped a police department in suburban Detroit raise money to give back to their community.
About Lincoln Park Police Department
Located just outside of Detroit, Lincoln Park is a suburb of about 38,000 people within a patch of about 4 square miles south of the city. According to Lt. Richard Kolakovich of the Lincoln Park Police Department, there aren't any major industries in town. Most of the businesses are smaller or retail-oriented.
The Lincoln Park Police Department consists of about 50 officers. Among other divisions, the department operates a community policing program to promote a positive relationship with residents.
There are several community events the LPPD participates in throughout the year, including a Cops Care picnic, Coffee with a Cop and hosting a stand at the community's Cinco de Mayo celebration in the spring. The department intends for these events to foster trust between the officers and civilians in the community. Lt. Kolakovich said his officers wanted to show that they don't only arrive when something bad is happening.
Finding Good Fundraising Tools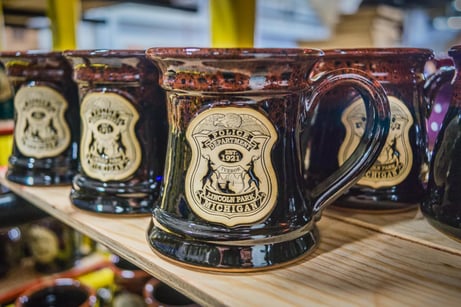 Lt. Kolakovich got the idea to sell Sunset Hill Stoneware mugs and steins to the community when he was looking at a mug he bought on a previous trip to Yellowstone National Park. He noted his department used to only sell T-shirts and other types of merchandise in order to fund their community policing program and bring more events to build relationships with Lincoln Park residents. However, he was looking for other ways to generate funds. To him, print coffee mugs simply weren't an option.
"It's hard to find a good-quality coffee mug," Lt. Kolakovich said. "It's hard to find something that isn't porcelain and printed crap."
The LPPD's first few orders featured our stein styles like the Portly Pint and Finish Line in a variety of glaze colors, from Galaxy Night to Razzmatazz. The department has begun ordering shot glasses and kitchenware products such as our Chili Up crock as well.
While one of Lt. Kolakovich's bosses first thought that the mugs wouldn't sell, everyone in the police department ended up purchasing one after the mugs went for sale shortly before Christmas in 2017. Combined with purchases from officers' relatives, all 96 of the mugs sold out shortly after New Year's Day.
After the LPPD began selling its custom stoneware to the public at events and in the lobby of their headquarters, the response from Lincoln Park residents exceeded expectations. During one mug sale, Lt. Kolakovich said that a local business owner bought $900 worth of mugs—everything they had in stock.
"He likes to support the police, and he has a business in our town, so he wanted to buy 25 mugs," Lt. Kolakovich explained.
The community responded positively to the sale and bought mugs ever since, including at local Cinco de Mayo celebrations, golf outings and more. Visitors to these events notice the mugs' quality and the artwork on the stoneware.
"The detail they put on the medallion looks like the badges we put on our uniforms," Lt. Kolakovich said. "The detail of the badge is flawless."
Impacts of Fundraising
The department has begun using the mugs to build positive public relationships with the Lincoln Park community. For example, to thank a local resident who brings drinks and sandwiches to the department, they gave her a mug. The department has also given mugs to other residents who give back to their community, such as a student at Lincoln Park High School who hosted fundraisers such as blanket drives, sock drives and cereal drives to help those in need.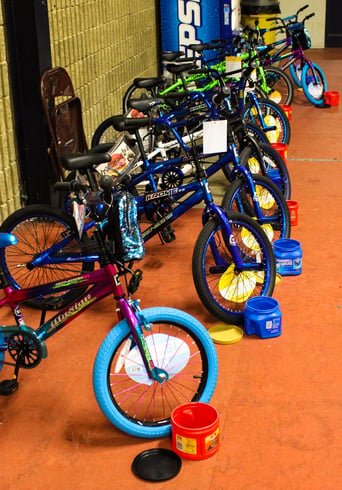 Lt. Kolakovich credits the success of these sales and gifts to the handmade quality of Sunset Hill Stoneware's products and the fact that the stoneware is from the United States.
"If it looked like crap, nobody would have bought it," he said.
Each time they bring mugs to sell at fundraisers, Lt. Kolakovich reports that the department sells more than anticipated. This gives the officers a chance to joke and connect with their community while they sell mugs.
"A lot of people don't get my jokes," he added. However, the missed jokes might be owed to the fact that some people don't expect police officers to have a sense of humor.
Thanks to the sales made from the custom stoneware mugs, the department is now able to host more events and programs for area residents and children. At their Skate with a Cop event, officers used the money raised from mug sales to purchase 10 bikes that they gave away to area kids with a free raffle drawing. They'll be able to give away more prizes at future events as well, thanks to continuing mug and stein sales.
Selling the stoneware gives the Lieutenant and his fellow officers a chance to show the public otherwise. Furthermore, Lt. Kolakovich was satisfied with his experiences interacting with the Sunset Hill Stoneware team every time he reordered, from the friendliness of the customer care and sales staff to the photos they sent while the mugs were being created. He also appreciated some of Sunset Hill Stoneware's efforts to recognize police events like National Police Week.
"They just have an incredible staff," Lt. Kolakovich said. "I'm sure I would have been disappointed if I had gone elsewhere."