Christmas Mugs for All Seasons
It's no secret that Sunset Hill Stoneware's unique coffee mugs are objectively a perfect holiday gift. They're functional, beautiful and can withstand the temperatures of an oven with ease. However, some groups who order our mugs go above and beyond in their pursuit of the holiday spirit. Some stand out for their unusual designs, causes or other markers of distinction.
In addition to own holiday offerings for 2018, here are the Sunset Hill Stoneware Christmas mugs for 2018.
East Rutherford Police Department
The East Rutherford Police Department from East Rutherford, N.J. got creatively festive when they ordered mugs from us recently. Like many of our emergency service clients, ERPD typically orders mugs and steins featuring its department badge throughout the year, sometimes with depictions of St. Michael, bald eagles and other unique details.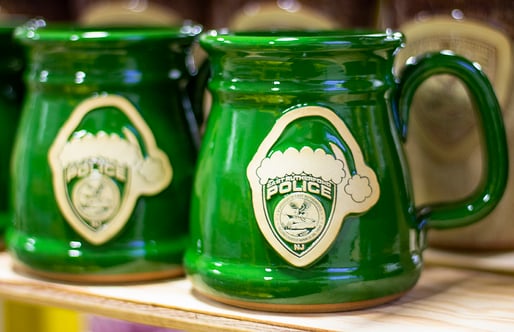 For the 2018 Christmas season though, we made ERPD mugs with a jolly twist. The department ordered Portly Pints and Tom's Mugs in Lucky Charm and Red, all with the department badge topped with a jolly-looking Santa hat.
Jeff Ryan, a member of the department, said that the Santa-themed mugs sold out within a matter of minutes. Proceeds from the mug sales benefited St. Jude Children's Research Hospital. Even after they ran out of their holiday-themed mugs, the department contributed proceeds from sales of their less seasonal mugs toward the hospital fundraiser as well.
East Rutherford Police Department has mugs up for sale in numerous styles and glaze colors at its department headquarters in the city of East Rutherford.
Mr. Throwback Thursday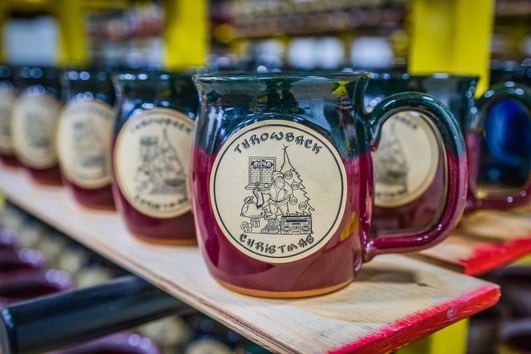 Anyone looking for a holiday mug with a bit more of a hip-hop flavor will love the mugs we made for Mr. Throwback Thursday, a hit podcast dedicated to old-school hip hop. They take the term "old school" seriously at this podcast—most of the music hosts Jamie and Bill discuss dates back to the '80s and '90s, when the genre was still in its formative years.
Keeping with the theme they love the most, the Mr. Throwback Thursday crew opted to use a unique design that was stylized and cool for their 2018 Christmas mugs. It features Santa with a classic boom box, sneakers and gifts for all the good little hip-hop fanatics. These mugs debuted on our Java Taster in Black Cherry, Zen Mist and Black Knight glazes.
Jamie, co-host of Mr. Throwback Thursday, loved how the mugs turned out. He noted that their stock on all mugs was down to single digits in a matter of days. The podcast's biggest fans enjoyed Santa's homage to hip hop's origins.
Primitive Gatherings Quilt Shop
Located just up the road from Sunset Hill Stoneware's offices in Neenah, Menasha-based Primitive Gatherings Quilt Shop is a little retail location with a massive following. We've worked with the quilting supply store for five years to make a set of unique mugs.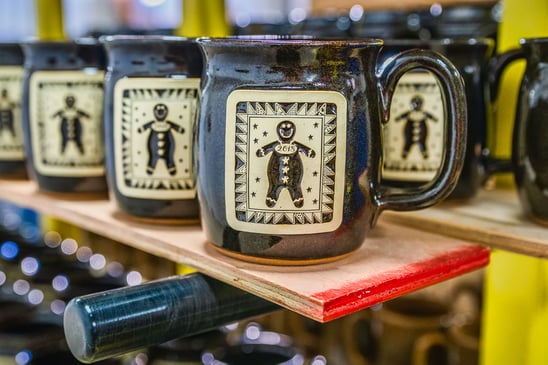 For the 2018 holiday season, Primitive Gatherings' mugs featured a jolly gingerbread man on a quilt-like pattern in our Mountain Brown glaze. The extra-large Java Taster let collectors see the gingerbread man with the geometric details of the quilt.
More than 1,000 quilting aficionados from across the country got this limited-edition mug after its grand debut in November. Seemingly overnight, fans of Primitive Gatherings were using their mugs to fuel them with enough coffee to get through wrapping their Christmas gifts and starting a new quilting project in one sitting, all while taking some seasonal photos with their mugs for social media.
Sunset Hill Stoneware
Our own artwork graced several mugs with their presences this year. We've created holiday mugs with seasonal stock artwork before. But, we got silly with our yuletide fare for 2018.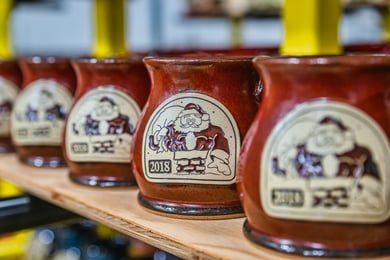 Our Christmas mug set this year featured Santa and one of his reindeer, both caught in some sticky situations. Santa finds himself stuck while attempting to go down through the chimney on our Sunfire Red Potbelly mug. One of his reindeer is tangled in Christmas lights on a Potbelly in our Irish Stout. He's unlikely to join any reindeer games.
Our graphic design team loved to show off their artistic chops for these mugs. We included them as Christmas gifts and tokens of appreciation for some of our customers, but we also debuted them for the holiday season in our online store.
They turned out to be a hit. Scores of Sunset Hill Stoneware fans ordered the Christmas-themed mugs from our online store, with the Reindeer Mug selling out before the holiday season was even over. Black Friday shoppers could also get their hands on one of the last of our fabled snowman mugs. These were discontinued indefinitely several years ago.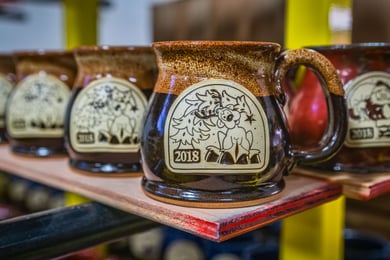 While it wasn't a limited-edition offering, we also made a batch of mugs for nerds with a sense of humor. Our Holidays Are Coming mug is turning into a perennial favorite, with Santa sitting atop a candy cane throne on a Dale Barrel stein in Brick Red. The cartoonish medallion pays homage to the HBO series Game of Thrones.
We had countless mugs go through our shop that were perfect for the holiday season this year. While these were just a few of the highlights, we encourage anyone looking for a mug to provide a dose of holiday cheer to check our interactive map to find mugs in their area.