Brandi Sickler: Why We Cut Back on Cold Calling
There's a lot that goes on behind the scenes at Sunset Hill Stoneware to bring your stoneware coffee mugs to you. Alongside our team at the shop, the employees at our office work every day to help you pick out unique coffee mugs and ceramic glaze colors to pair with your artwork or logo.
At the head of our team of account specialists is Brandi Sickler, Sunset Hill Stoneware's director of customer experience. Having been with us for nearly three years, Brandi is an expert not only in guiding people to find the mugs they'll like best, but also in bringing our method of interacting with our customers into the present day.
Meet Brandi
A mother of two daughters who has loved acting her whole life, Brandi's absolute favorite mug is the Java Taster. While her favorite glaze color changes from time to time, her current pick is Denim Tuxedo.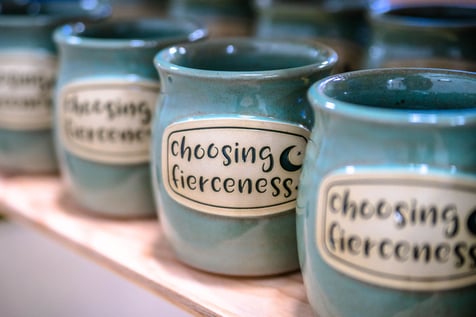 Within the last two years, we've experienced a lot of changes in how we run things. We've changed the way we sell our mugs since then. One of Brandi's major contributions as our director of customer experience was to modernize the way we sell our mugs. While our account specialists still have the goal of making money for the company, Brandi has steered us into helping our customers find the right stoneware and ceramic glaze combination for their brands. Wanting to help and be flexible is a key factor in that.
"There isn't a wrong choice as long as you pair things up correctly," Brandi said. "Sometimes, you just need to educate the customer and go with their decision."
Inbound over Outbound
Inbound marketing and sales is a tactic designed to draw visitors and potential customers in, rather than promoting your brand to the masses in hopes of generating sales leads. In other words, one example is the difference between seeing a business promote itself on social media versus having a telemarketer call you in the middle of the day.

For years, Sunset Hill Stoneware operated on an old technique with which many salespeople are familiar. It typically involved a lot of cold calling and unsolicited emails to see if anyone was interested in buying our products. There were also a lot of trade shows.
However, things began to change as social media and search engines like Google became more prominent in everyday life. At that point, we knew we had to change our tactics and adapt to keep our business thriving.
Brandi knew that the way of the future was in this less intrusive form of sales, so when the opportunity arose and she became our director of customer experience two years ago, she got to work almost immediately. She knew that about 80-90 percent of the buying decisions in today's world happen before a customer even reaches out.
"The internet is everything," Brandi explained. "Information is a plethora, and if you're not in front of anyone who can be your customer, you're missing out on a chance for them to find you."
If you don't offer that information ahead of time, you risk reaching out to potential customers after it's too late to get their interest.
Ultimately though, the best way to give your customers the information they need is to make it accessible ahead of time. According to Brandi, that way, you'll be able to help them whenever they are ready to buy on their own terms.
Keeping Us Hooked
An avid crocheter and knitter, Brandi learned to crochet from her grandmother when she was nine or 10 years old. She hooked onto it immediately. One of her first major crocheting projects after learning the ropes was a granny square that could fit a queen-sized bed.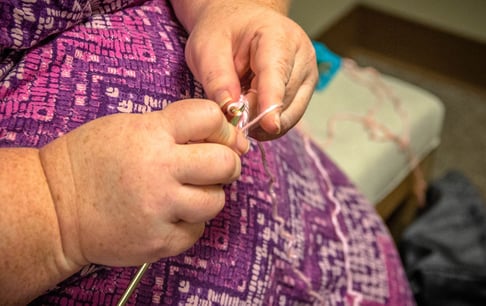 "I will never forget it," Brandi said of the queen-sized granny square. "I was so proud of myself, and it took me a week. But, those get pretty boring."
During and after her school years, Brandi took an aggressive approach and became a crocheting pro. However, she lost interest for years and only took up her crochet hook again after her grandmother passed away. From there, Brandi decided to expand her craft horizons with knitting.
"I went onto YouTube and watched videos to learn how to do basic stitches," Brandi said. "Within six weeks, I had made myself a cable knit blanket."
In addition to her work with blankets and other large projects, Brandi plans to take up crocheting kitchen scrubbies to eventually sell on Etsy so she can finance a trip to Japan with her daughter. With that goal ahead of her, Brandi also notes that there are other benefits to crocheting and knitting as well.
"It allows me time to be in my own head," Brandi said. "I don't get much time to think, and I'm a thinker."
Brandi is one key part of a company that brings your artwork or brand to life on pieces that can last a lifetime. To learn more about the artisans that handcraft your stoneware, meet the whole team in the ongoing series on our blog.