Best Practices for Retaining Employees
Among HR personnel, 47% say that retaining employees and employee turnover is their No. 1 challenge. Businesses have to decrease turnover and improve retention. But how?
The easiest way for a business to do this is to show your employees that you care about them. That way, they'll feel better about working for you and won't jump ship as easily. One way to do this is to provide them with the occasional gift, like one of our handcrafted mugs or steins.

How Employee Retention Makes or Breaks Your Business
Employee retention is kind of like a game of volleyball: Employers have to keep the ball—in this case, your employees—in the air so it doesn't hit the ground. In volleyball, this means the game is lost. In the corporate world, it means you've lost a valuable employee, and all the skills and knowledge they possessed.
The best way to keep the ball in the air is to give them more than just the basic salary and benefits they agreed to when they were hired. However, that doesn't mean you have to buy them all tickets to a U2 concert. It could mean weekend picnics, appreciation days or even small gifts to help them feel acknowledged and give them a stronger sense of unity.
Here are some other ways that maintaining employee retention can help your business in the long run:
Aiding in meeting business goals;
Improving production continuity;
Increasing profits;
Proper allocations of resources; and
Limiting recruitment and training costs.
On the other hand, failure to show your employees that they're valuable can have disastrous consequences for your business, including:
Slowed production
More errors
Lost money
Showing Employees Your Appreciation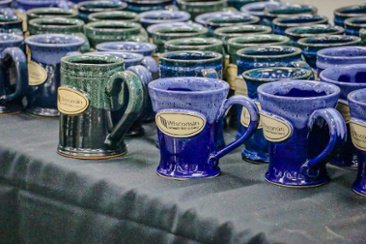 Showing employees your gratitude helps prevent these slipups, unifies and dignifies your business and ultimately helps keep your employees where they are.
We've talked before about how mugs make excellent employee gifts. A gift like this shows you recognize them and that you appreciate them.
However, you shouldn't necessarily go for the lowest common denominator when looking for swag to offer your employees. Instead of a cheap-looking, imported mug with a printed design, aim for something handcrafted, American-made and completely customized with your company's logo. It will be a tangible piece of your company so the employee can feel more of an asset to their company, all without breaking the bank.
See for yourself which mugs would be best for your employees and join the list of companies using our stoneware as corporate gifts.